Synkinesis refers to the development of facial movements that were not intended and it often affects individuals who are recovering from facial palsy for an extended period of time. Selective Neurolysis is the best surgical treatment in most patients with partial facial paralysis and synkinesis. Pioneered by Dr. Babak Azizzadeh, Selective Neurolysis is the most cutting-edge treatment option for patients with synkinesis and provides effective and long lasting results.
Synkinesis Surgery Before and After Photos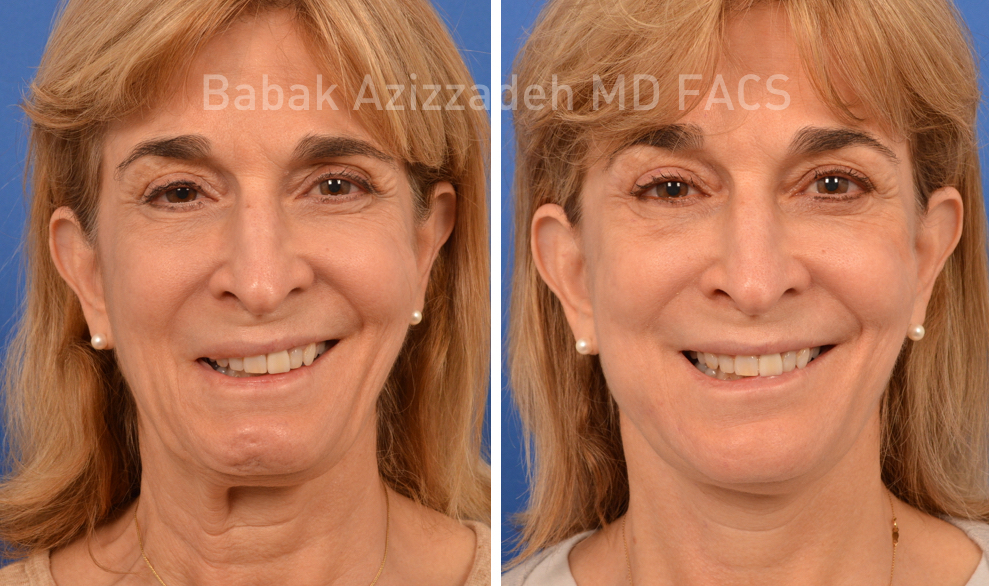 Treatment Options for Synkinesis
Synkinesis treatments usually are based on three modalities:
Synkinesis Surgery: May consist of selective neurolysis, static suspension of the corners of the mouth, blepharoplasty (eyelid surgery) or an asymmetric facelift treatment. Currently, selective neurolysis represents the most advanced synkinesis surgery. Selective neurolysis serves as a complex, intricate synkinesis treatment with a minimal recovery period.
Neuromuscular Retraining (physical therapy): Focuses on retraining the coordination of appropriate facial muscle movements. Neuromuscular training involves the identification of facial muscles that are contracting abnormally, along with a multi-stage process that enables an individual to retrain the facial muscles at the neurological (brain) level.
Botox (botulinum toxin) for Synkinesis: May be used by itself or in combination with selective neurolysis or neuromuscular retraining. Botox for synkinesis can reduce muscle activity, limiting the risks associated with overactive and uncoordinated muscles.
It is essential for an individual to review all of these synkinesis treatment options during a consultation with a facial nerve expert, like Dr. Azizzadeh. By doing so, a person can learn about the benefits associated with each treatment and determine which treatment option will provide the best results for their unique concerns.
When a patient has tried other methods, but is not experiencing success, surgery may be the best option. Babak Azizzadeh, MD, FACS is a world-renowned facial paralysis surgeon who will customize a surgical treatment plan to address your synkinesis concerns. These treatments are innovative surgical procedures that have been developed at the Facial Paralysis Institute. Traditionally, static slings, blepharoplasty, and face/neck lifts were utilized to improve symmetry. Today, procedures such as selective neurolysis and gracilis flaps/cross facial nerve grafts can restore a dynamic smile.
Selective Neurolysis Surgery for Synkinesis Treatment
Selective neurolysis is the most cutting-edge advancement in the treatment of patients who cannot generate an appropriate smile with partial facial paralysis and synkinesis. Selective neurolysis is an intricate operation, but the downtime and risks involved for the patient are limited compared to other facial nerve surgeries. The procedure involves releasing the platysma muscle (which pulls the corner of the mouth down, hence preventing upward smile motion) and selectively decreasing the activity of the nerves that counter the smile mechanism to help get an upward trajectory of the mouth and improve synkinesis. These procedures allow spontaneous reanimation of the face.
Static Suspension for Synkinesis Treatment
Static suspension, or static sling, is a procedure used to improve facial symmetry in patients with facial paralysis and synkinesis, particularly in the mouth and laugh line area. Plus, static sling has been shown to help an individual minimize some of the most difficult side effects of facial paralysis, such as drooling and biting of the inner gum.
Dr. Azizzadeh uses sutures or tensor fascia lata (autologous tendon) from the patient's outer thigh. If tensor fascia is utilized, strips of the tendon are attached to the corner of the mouth on the through a small facelift incision. Dr. Azizzadeh uses endoscopic technology to minimize the quantity and size of incisions, and he is an expert in performing static suspension surgery using the tensor fascia lata. Because the muscle used to create the sling is from the patient's own body, there is less chance of rejection.
Another option for static sling surgery is to use freeze-dried, acellular human dermis known as Alloderm. Dr. Azizzadeh has experienced great success with Alloderm over the years and a benefit to this procedure is that there is no need for a second incision to get muscle to harvest, such as in the leg for the tensor fascia lata procedure.
Dr. Azizzadeh can also perform a minimally invasive suture suspension procedure in place of the more invasive surgery, which may be a good option for patients with partial synkinesis. Each patient is unique and the most appropriate treatment method for your particular condition will be decided upon during your consultation.
Blepharoplasty for Synkinesis Treatment
One of the most common side effects of synkinesis and partial synkinesis is involuntary eyelid closure when smiling, laughing, or opening the mouth. In some cases, this can be treated with a modified blepharoplasty, or eyelid surgery. Depending on your unique situation, Dr. Azizzadeh can customize a treatment plan to help restore normal eyelid function and address your specific needs.
Asymmetric Facelift for Synkinesis
Dr. Azizzadeh can also perform an asymmetric facelift and/or neck lift to improve facial symmetry and minimize the visible effects of facial paralysis and synkinesis. He tailors the facelift to the individual in order to address specific areas affected by synkinesis and obtain optimal aesthetic results.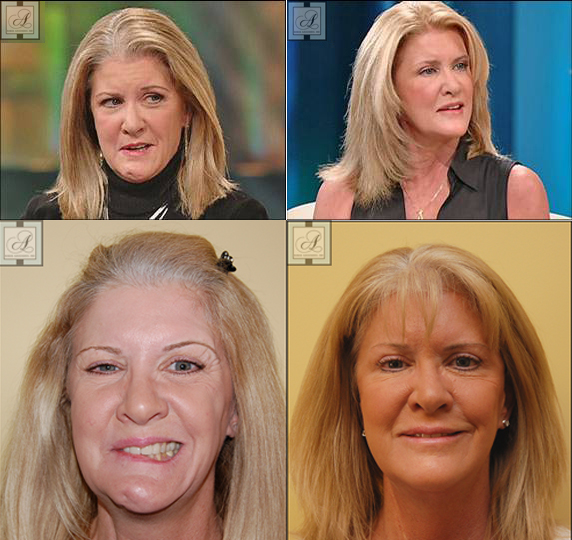 Dr. Azizzadeh, known around the world for his facial reanimation expertise, performed a facelift on Mary Jo Buttafuoco in 2005 as part of the specialized treatment plan he created to restore balance and animation to her face after she had been shot in the head years earlier. The facelift, performed in conjunction with static facial suspension and a modified blepharoplasty, produced incredible results, both in terms of function and aesthetics.
Cross Facial Nerve Graft & Gracilis Muscle Transplant
Some patients with long-term facial paralysis and synkinesis may be candidates for a cross facial nerve graft and gracilis muscle transplant. These cutting-edge surgical procedures, combined with physical therapy, can help restore dynamic facial animation, such as the ability to smile, in facial paralysis patients.
The procedure is typically done in two parts. First, nerve grafts from the lower leg are harvested and fixed to the functioning facial nerve in what is known as a cross-facial nerve graft. The second stage is the gracilis muscle transplant in which a portion of the gracilis muscle free flap from the inner thigh is harvested and attached to the cross-facial nerve graft. Together, these two procedures and physical therapy typically restore some facial movement within 8 months, and patients continue to see improvement for up to two years.
Contact Us Today to Discuss Synkinesis Treatment Options
Every synkinesis patient is different, and therefore, synkinesis and facial palsy treatment methods may vary from one person to the next. Generally, patients experiencing permanent synkinesis or partial synkinesis will go through physical therapy to help restore facial movement, and/or Botox injection treatments to improve facial symmetry. If these are not effective, you may be a candidate for surgery.
Dr. Babak Azizzadeh is a world-renowned facial paralysis surgeon who has extensive experience in treating patients suffering from synkinesis, both surgically and non-surgically. He is a Harvard-trained and double board-certified facial plastic and reconstructive surgeon who is happy to help individuals find ways to manage synkinesis. Contact Dr. Azizzadeh today to schedule a consultation and begin the road to synkinesis recovery. Call the Facial Paralysis Institute at (310) 657-2203.
Next, read about Botox for synkinesis treatments.
Schedule a Consultation
If you are suffering from synkinesis, schedule a consultation with Beverly Hills surgical expert Dr. Azizzadeh by calling (310) 657-2203 or sending us an email.
Request your consultation with Dr. Azizzadeh today
Call us at (310) 657-2203 to schedule an appointment.
Schedule a Consultation