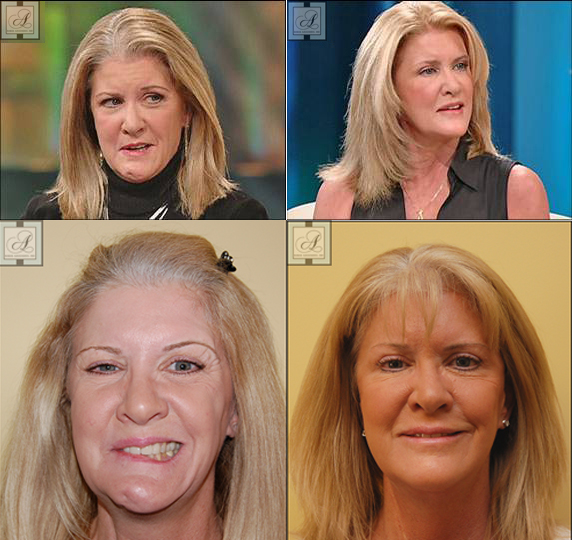 Mary Jo Buttafuoco took a gunshot to the head when she was thirty seven years old. The gunshot wound left her disfigured, with a loss of hearing in her right ear and the right side of her face paralyzed. This sad story made national headlines because of the other people involved.
Not being able to smile, Dr. Azizzadeh became aware of her situation and felt confident he'd be able to help her. Mary Jo accepted on the strength of his expertise in the field of facial reanimation and a complex reconstructive procedure was planned.
Mary Jo became Dr. Azizzadeh's patient at the Facial Paralysis Institute following her Oprah appearance in 2005. During that episode she discussed the facial paralysis and ear damage she suffered as a result of this attack, 14 years earlier. She felt very self-conscious about her looks and had lost much of her self confidence.
The first step was a state-of-the-art facial reanimation procedure involving static facial suspension, face lift, and eye lift procedures. These surgeries restored balance to Mary Jo's face and gave her back her smile. Next was surgery to widen the ear canal which improved her hearing and prevent future infections. She was also undergoing physical therapy to strengthen her facial muscles.
Months later, Babak Azizzadeh, MD, FACS, increased his visibility on the national stage by landing a guest spot on The Oprah Winfrey show, where he had been invited to appear for a segment about his patient, Mary Jo Buttafuoco.
Mary Jo was brought back to the show to discuss the reanimation wonders performed by Dr. Azizzadeh and his team. When asked by Oprah how she felt about her new looks and newly functional face, a radiant Mary Jo smiled broadly and said, "I love the results". Judging by the applause, so did the audience.
View Dr. Azizzadeh on Inside Edition  as he gives her thorough explanation of the aesthetic and reconstructive procedure.  Dr. Azizzadeh also performed a static sling for Mary Jo. This treatment had goals that were both aesethic and functional. Dr. Azizzadeh's main challenge was contouring the 2 sides of Mary Jo's face to be as symmetrical as possible.
Dr.  Azizzadeh has helped hundreds get back to a normal life through his impressive surgery techniques. From a cleft in the face to rhinoplasty
and facial reconstruction, such as in Mary Jo's case, Dr. Azizzadeh has given 100% to all of his patients.
Watch Dr. Azzizadeh on The Oprah Winfrey Show and talking about Facial Paralysis Awareness with KTLA.
---
If you are suffering from facial paralysis, please schedule a consultation with Beverly Hills facial paralysis expert Dr. Azizzadeh by
calling (310) 657-2203 today!
Request your consultation with Dr. Azizzadeh today
Call us at (310) 657-2203 to schedule an appointment.
Schedule a Consultation