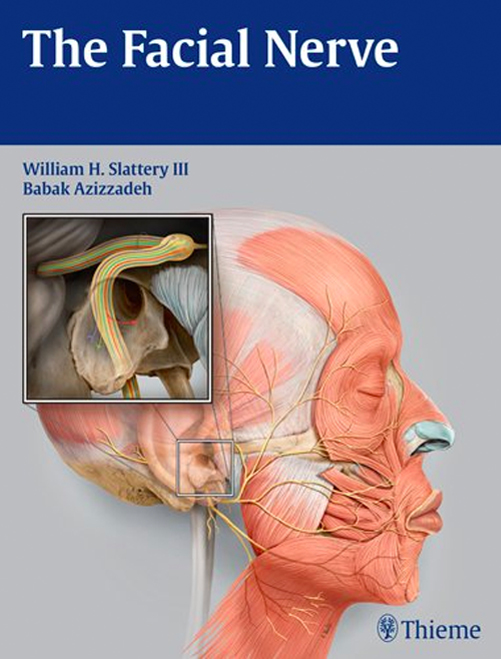 Textbook
The Facial Nerve is a comprehensive guide to the pathology, diagnosis, and treatment of facial nerve disorders. Addressing important facial nerve problems such as congenital disorders and Bells palsy, this text provides physicians with the most up-to-date medical and surgical treatment recommendations.
---
Clinical Review Textbook
This issue of Otolaryngologic Clinics of North America, devoted to Parotid Disease, is guest edited by Drs. Babak Azizzadeh and Babak Larian. Articles in this outstanding issue include: Parotid Gland and Facial Nerve Anatomy; Parotid Gland Imaging; Evaluation of Parotid Lesions; Benign Parotid Tumors and Management; Diagnosis and Management of Malignant Salivary Gland Tumors of the Parotid Gland; Parotitis and Sialoendoscopy of the Parotid Gland; Parotidectomy for Benign Parotid Tumors; Parotidectomy for Parotid Cancer; Parotid Tumors and the Facial Nerve; Loco-Regional Parotid Reconstruction; Free Tissue Transfer in Parotid Reconstruction; Facial Paralysis Reconstruction; Periocular Reconstruction in Patients with Facial Paralysis; Rare Parotid Diseases; and Management of Frey's Syndrome.
---
Journal Article
Examining the genetics of congenital facial paralysis–a closer look at Moebius syndrome
This article provides a comprehensive summation of the genetic and etiologic literature underlying Moebius syndrome.
---
Publications
Dr. Azizzadeh featured in New Beauty

An African Boy's Healing Year
---
Written in Best Of Los Angeles 2004, City of Brentwood
Best Extreme Make-Over
Dr. Babak Azizzadeh doesn't just specialize in facial cosmetic surgery, he masters it, by using a combination of surgical and non-invasive techniques. By analyzing the face, determining the patient's needs and creating changes that work for them rather than drastically change the face's structure. Azizzadeh's work is hidden in faces all over the Los Angeles area. This calm and comforting office environment erases the cold and constrictive memories that most people associate with check-ups and his staff treats everyone like an old friend…an old friend getting a new face.
---
Book Reviews

Book review Springer
Book review OPRS
Master Technique in Blepharoplasty and Periorbital Rejuvenation
---
Articles

Laryngoscope