Parotidectomy, also referred to as parotid tumor surgery, is used to remove a parotid gland tumor. Safe, effective parotidectomy surgery requires precision and attention to detail, due to the parotid gland's proximity to the facial nerve. Thanks to Dr. Babak Azizzadeh and Dr. Babak Larian of The Facial Paralysis Institute, a patient can undergo tumor surgery performed with unprecedented precision, attention to detail, and care.
---
What is the Parotid Gland?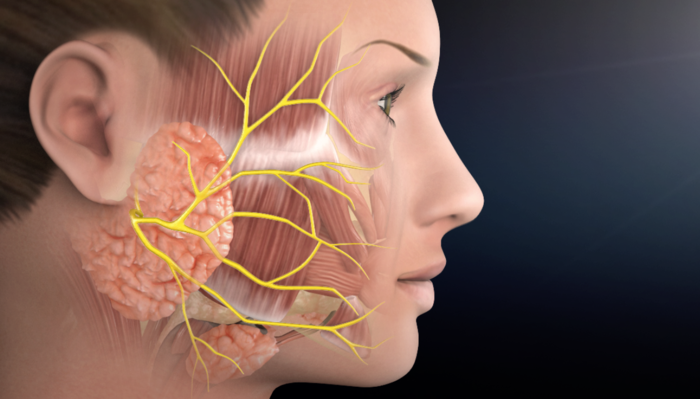 The parotid gland is an important salivary gland in the body because it is a key pathway for the facial nerve. It also can have a significant role in facial nerve disorders. It pumps saliva through the Stensen's duct, into the mouth, which helps keep the mouth wet and alleviates swallowing problems.
---
Where is the Parotid Gland Located?
The parotid gland sits under the skin, anterior to the ear. It wraps around the back of the jaw at the mandibular ramus, and it is palpated bilaterally. The facial nerve runs through the parotid gland, and there is one parotid gland on each side of the head.
What Causes Parotid Gland Problems?
The most common causes of facial nerve disorders as a result of the parotid gland is tumors (pleomorphic adenoma), malignancy (adenoid cystic carcinoma, adenocarcinoma), trauma, and infectious process. Even though the mumps have all been eliminated with routine vaccinations, this viral infection will give you an idea of how serious an infection of the Parotid gland can be.
Parotid tumors are typically benign and can be treated with surgery. The most common parotid tumor is a pleomorphic adenoma which usually presents with a pain-less lump at the jaw line in front of the ear. Other tumors are typically more concerning and can be malignant such as adenoid cystic carcinoma, adenocarcinoma, and squamous cell carcinoma.
Staphylococcus (Staph infections) aureus is one of the most common reason the Parotid gland becomes infected and usually if can be contained with antibiotics and anti-inflammatories.
Bacteria that create tuberculosis are another factor that can cause Parotid infections. Other bacteria that causes "acute suppurative parotitis" are also painful; These can usually be treated by drugs.
Diabetes, bulimia and alcoholism may cause enlarged parotid glands that are usually not painful. Research indicates that there is a small group of AIDS victims that have experienced parotitis.
Any blockage to the parotid duct such as a tumor, mucous plug, salivary stone is usually the cause of painful and deadly parotiditis. Calcium can lead to the development of salivary stones, they can typically be detected by X-ray.
Chronic inflammation of the parotid gland may be caused by Sjogren's syndrome. This is caused by an autoimmune disease and it can be a serious problem. There is no known cause for Sjogren's syndrome at this time. Dryness in the eyes, nose, skin and mouth in the facial area along with swelling is an indication of Sjogren's syndrome.
Is a Parotidectomy Necessary?
A parotid gland tumor is generally diagnosed by a doctor during a physical exam. The doctor will examine a patient's jaw, neck, and throat and look for any swelling or lumps. In addition to a physical evaluation, imaging tests like a magnetic resonance imaging (MRI) or computerized tomography (CT) scan may be used to determine the size and location of a parotid gland tumor.
Before and After Parotidectomy Treatment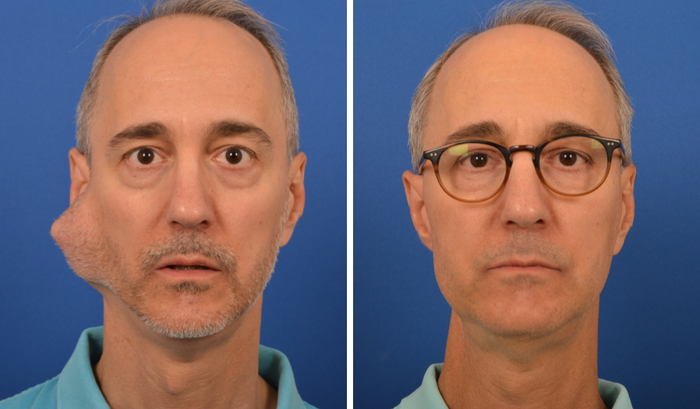 Facial Nerve Preservation During A Parotidectomy
In the event that the facial nerve is damaged during treatment, a patient may experience partial or complete facial paralysis. As such, parotidectomy facial paralysis is a major concern for Dr. Azizzadeh and Dr. Larian, and they work diligently to preserve the facial nerve.
Together, Dr. Azizzadeh and Dr. Larian prepare a custom parotid tumor surgery treatment plan for a patient. treatment. Dr. Azizzadeh and Dr. Larian explain the risks associated with parotid tumor removal prior to surgery. They determine the precise location of a parotid gland tumor before surgery and try to work around the facial nerve during. Also, they use advanced surgical techniques and technologies to identify and preserve the facial nerve throughout treatment.
Parotid Gland Treatment
At The Facial Paralysis Institute, Dr. Babak Azizzadeh and Dr. Babak Larian use a multi-specialty approach to address parotid tumors. Dr. Larian is a renowned head and neck surgeon and currently serves as the Clinical Chief of the Division of Otolaryngology at Cedars-Sinai Medical Center. He uses a minimally invasive and cutting-edge technique to safely remove the tumor with the highest rate of facial nerve preservation. Dr. Azizzadeh, a facial plastic and reconstructive surgeon, helps to plan the surgical incision and reconstruction of the region so that patients can avoid significant scarring and facial nerve damage. Furthermore, given Dr. Azizzadeh's facial nerve expertise, the rate of facial nerve preservation and outcome is safely guarded.
How to Prepare for a Parotidectomy
Dr. Azizzadeh provides instructions to help a patient prepare for parotidectomy surgery. He generally recommends patients do not eat or drink anything any time after midnight prior to surgery. Also, patients should disclose any medications they take to Dr. Azizzadeh before treatment.
On the day of a parotidectomy, a patient may need to arrive at least a few hours before the procedure. The Facial Paralysis Institute team will verify a patient's medical information and ensure he or she is good to go for treatment. Dr. Azizzadeh will meet with a patient to discuss any last-minute concerns before surgery, too.
What to Expect During a Parotidectomy Surgery

Parotidectomy surgery is usually performed under general anesthesia at an outpatient surgery center. Dr. Azizzadeh makes an incision in front of the ear; this incision extends into a natural crease behind the ear and along the hairline and results in a barely visible scar.
What to Expect Following Parotidectomy Surgery
Most patients can return home the same day of a parotidectomy. Patients can typically eat or drink shortly after surgery. They may be provided with pain medication after treatment as well. Patients always tell us they are amazed at how good they feel within 24 hours of surgery.
Dr. Azizzadeh monitors a patient's recovery. He requests a follow-up appointment to remove any drains or tubes following a parotidectomy. Dr. Azizzadeh also tracks a patient's progress to minimize the risk of infection and other side effects following treatment.
Parotidectomy Surgery Recovery
Dr. Azizzadeh and Dr. Larian offer the following tips to help patients recover following parotid tumor surgery:
Wash around the incision with water at least twice a day for the first few days after surgery.
Get sufficient rest and keep the head elevated while sleeping.
Walk at least a few minutes each day; this helps improve blood flow.
Avoid strenuous activity for at least three weeks after surgery.
Avoid overextending the neck for at least two weeks after surgery.
Avoid chips, raw vegetables, and other hard, scratchy foods for the first few days after surgery; instead, choose yogurt, mashed potatoes, and other soft foods.
Use pain medication as directed.
Follow-up appointments with Dr. Azizzadeh and Dr. Larian are paramount. These appointments allow a patient to share any concerns during their recovery from parotid tumor surgery. They also enable Dr. Azizzadeh and Dr. Larian to ensure the patient can achieve the full results of treatment.
Why Choose The Facial Paralysis Institute for Parotidectomy Surgery?
When it comes to a parotidectomy, there is no need to take any risks. By working with Dr. Azizzadeh and The Facial Paralysis Institute team, surgery patients can receive expert support at all times.
Dr. Azizzadeh is a world-renowned facial plastic and reconstructive surgeon. He is dual-certified and Harvard-trained plus, Dr. Azizzadeh takes a holistic approach to patient care. He tailors a parotidectomy surgery to his patient, and in doing so, helps each patients achieve the best results.
Schedule a Parotidectomy Consultation Today
If you are actively considering parotidectomy, schedule a consultation with Beverly Hills facial paralysis expert Dr. Azizzadeh by calling (310) 657-2203 today!
Next, learn about physical therapy