The Facial Paralysis Institute is home to the most cutting-edge treatments and surgical procedures available for those suffering from Bell's palsy and facial paralysis, including the masseter to facial nerve transfer technique.
Various medical issues such as acoustic neuromas, Bell's palsy, trauma, parotid tumors, and Moebius syndrome can cause facial paralysis. Depending on the severity and longevity of the patient's facial paralysis, there are multiple options a person has for undergoing surgery to regain facial animation. After evaluating a patient's facial movement capabilities, Babak Azizzadeh, MD, FACS, expert facial paralysis surgeon, may determine the masseteric-facial nerve transfer, also known as the trigeminal-facial nerve transfer or 5-7 nerve transfer, is the best treatment option.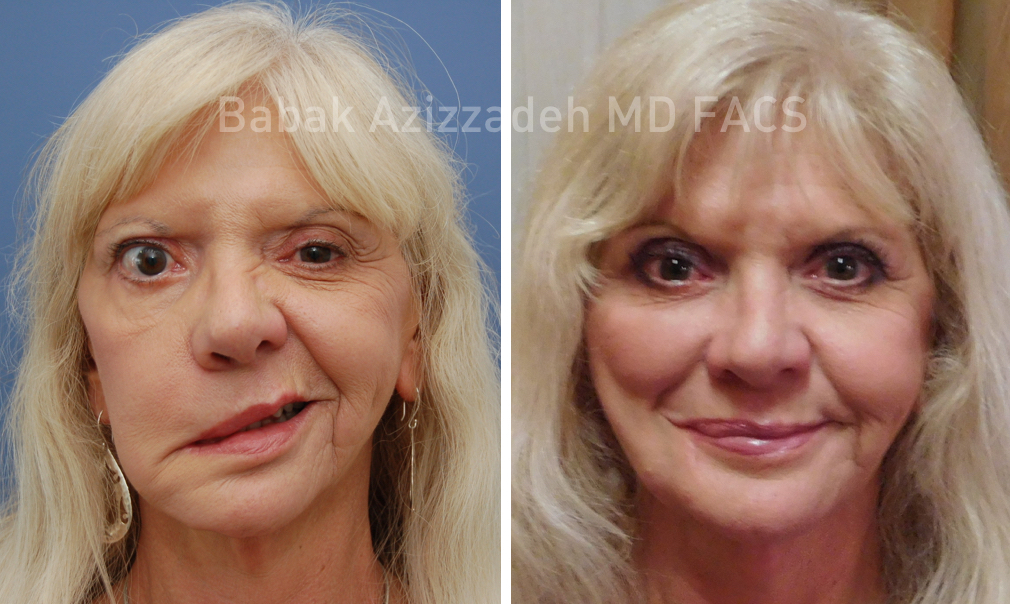 Facial paralysis patients travel from across the world to have the masseter to facial nerve transfer procedure performed at the Facial Paralysis Institute in Beverly Hills. With Dr. Azizzadeh, patients are in the hands of one of the pioneers of surgical modification that leaves them with less synkinesis and a more dynamic smile.
---
Understanding The Masseter to Facial Nerve Transfer
The masseter nerve transfer (or trigeminal nerve transfer) has the ability to greatly improve facial reanimation for sufferers of permanent Bell's palsy or complete facial paralysis. At the Facial Paralysis Institute, this procedure has had tremendous success in helping patients who have been experiencing paralysis for less than three years, though it is not limited to that specific longevity and greatly depends on the etiology and muscle activity.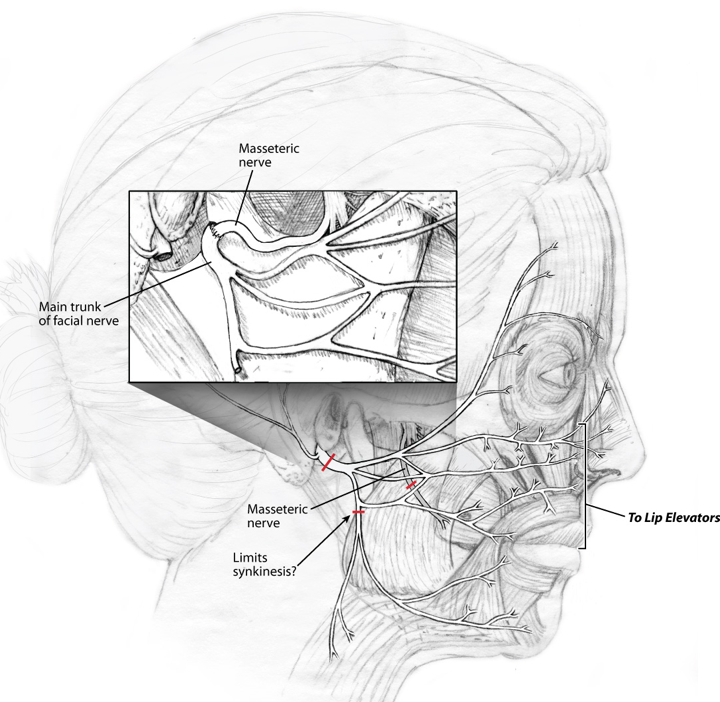 During the masseter to facial nerve transfer, Dr. Azizzadeh makes an incision near the front of the ear. The facial nerve and masseteric nerve are identified and sewn together under microscopic magnification. The masseteric nerve, which is used to activate chewing muscles, provides neural input into the paralyzed facial nerve, thereby restoring the facial muscle function and smile.
Generally, results can be seen over the course of several months following the masseter nerve transfer procedure.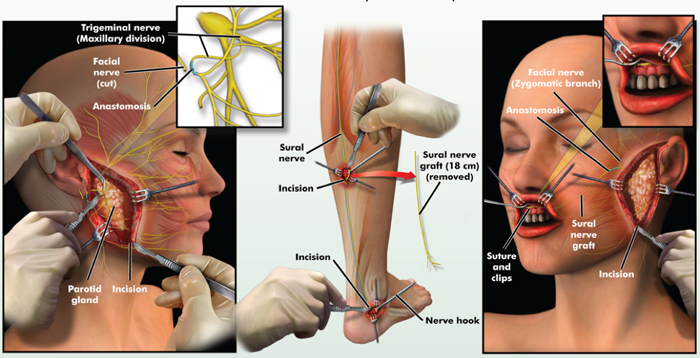 ---
Watch Masseteric-Facial Nerve Transfer Videos
---
Recovery After Masseteric-Facial Nerve Transfer
Masseteric-facial nerve transfer surgery (or trigeminal facial nerve transfer), is generally performed in an out-patient surgery center and the patient is able to go home the same day. Patients can eat a regular diet beginning the very next day, with a 7-10 day recovery period. During the post-operative period, patients are asked to avoid:
Pressure to the affected cheek
Exercise
Heavy lifting
Vigorous brushing of the teeth
Motion resembling the unaffected side, meanwhile, often develops between the sixth and seventh post-operative months. Older individuals may require longer periods of time to achieve the desired function, but the end result is usually comparable to younger individuals.
The strength and control over the reconstructed smile will continue to improve over several years. While biting down will initially be required to produce a smile, the brain has the potential to undergo a re-education process (cerebral adaption), resulting in the production of a naturally occurring and effortless smile over time. In addition to the potential for re-education, the masseter to facial nerve transfer, perfected by Dr. Azizzadeh, has several extra advantages over other nerve donors. The nerve has a high density of motor axons and the ability to produce a strong smile with the proper orientation. The permanent difficulties with speech and swallowing associated with more traditional nerve transfers are also avoided utilizing this technique.
Learn more about the healing process and the need for facial physical therapy exercises following masseteric-facial nerve transfer from expert occupational therapist, Jackie Diels.
---
Before & After Masseteric-Facial Nerve Transfer
---
Speak With Dr. Azizzadeh About Your Options Today
If you or a loved one is suffering from facial paralysis or long term Bell's palsy and would like to learn more about the best options for facial reanimation and facial paralysis treatment, including masseter to facial nerve transfer and cross facial nerve graft, Dr. Azizzadeh encourages you to contact the Facial Paralysis Institute in Beverly Hills today to schedule your initial consultation by calling (310) 657-2203. Dr. Azizzadeh is a board-certified otolaryngologist with an extreme training and knowledge in performing facial paralysis surgery's that can provide patients with the most optimal outcomes possible.
For additional information on the four types of nerve transfer procedures that can benefit sufferers of facial paralysis or Bell's palsy, please contact the Facial Paralysis Institute today.
Request your consultation with Dr. Azizzadeh today
Call us at (310) 657-2203 to schedule an appointment.
Schedule a Consultation