In patients with long-term facial paralysis who are older than 55, cross-facial nerve grafts have not produced great results. As a result, Dr. Azizzadeh likes to utilize the hypoglossal nerve or trigeminal nerve as the neural supply for the gracilis muscle transplant (see gracilis muscle section). The nerve of the gracilis muscle is attached to the hypoglossal nerve in the neck. The hypoglossal nerve is responsible for moving the tongue muscle and by attaching a partial portion of the nerve to the transplanted gracilis muscle; the patient has the ability to move the face voluntarily by tongue thrusting. This advanced state of the art procedure creates a natural appearance to the face with the ability for voluntary facial movement. (Source: Dr. B. Azizzadeh, Facial Paralysis Institute)
---
Uses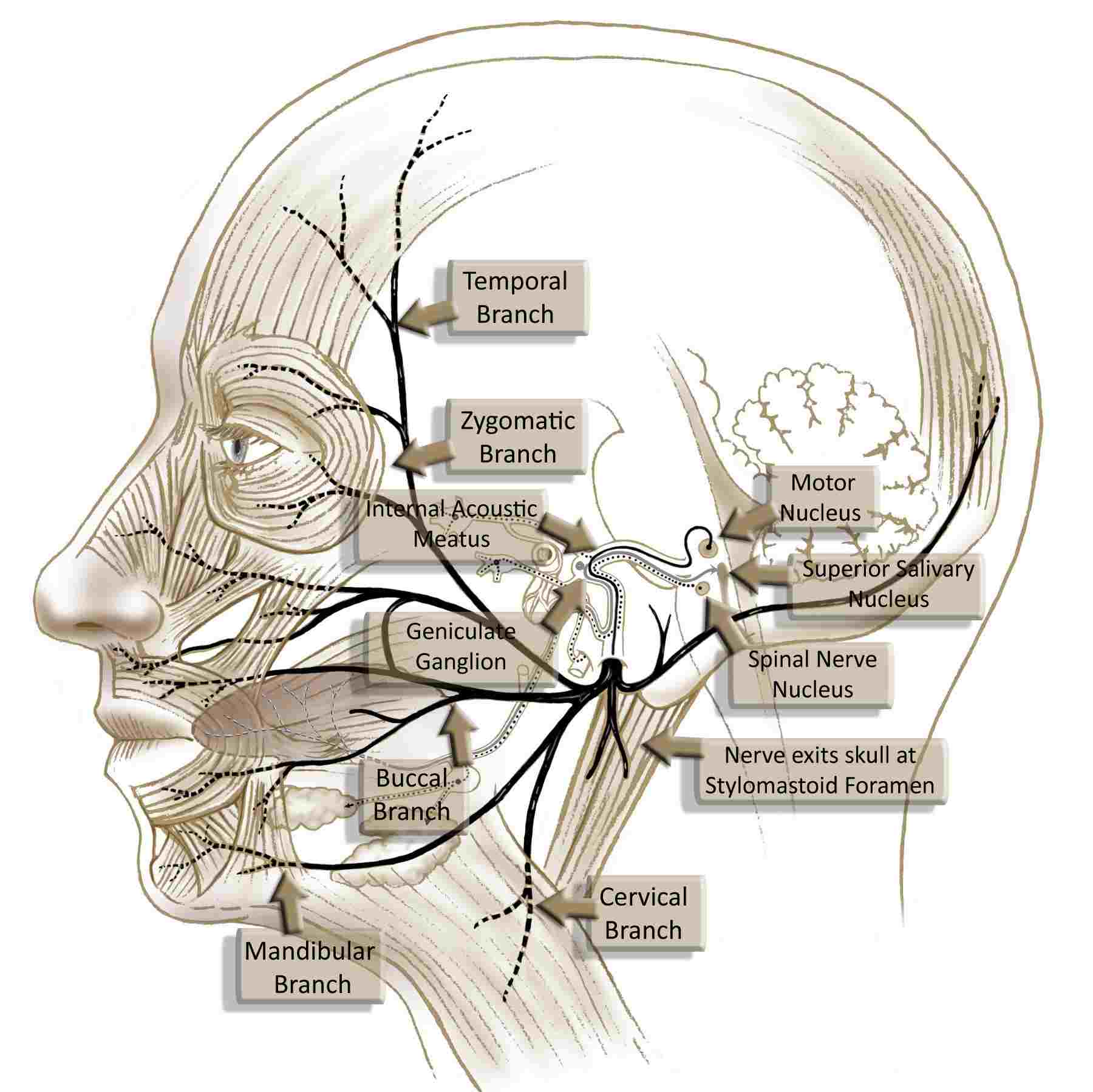 The primary use of gracilis free tissue transfer in the head and neck region is in the form of a muscular free flap for the dynamic rehabilitation of long-standing permanent facial paralysis. When combined with cross-facial nerve grafting or used as a single-stage reconstruction, free tissue transfer offers the best prospect for restoring spontaneous emotional facial expression. Benefits of this muscle over other free flaps used for dynamic facial reanimation include consistent anatomy with large caliber vessels, ease of harvest, a 2-team approach, reliability, and acceptable donor site morbidity. Drawbacks include excessive bulk, skin tethering, and a donor site scar that may be minimized with minimally invasive techniques. Secondary procedures to refine the results are often necessary to achieve a good final result. Ultimately, the choice of muscle for dynamic facial reanimation depends on the surgeon\'s experience and comfort level. (Source: Jason H Kim, MD, Assistant Professor, Department of Otolaryngology-Head and Neck Surgery, University of California at Irvine http://www.emedicine.com/ent/topic709.htm )
---
Summary
For older individuals the Hypoglossal-gracilis free flapwill have less pain and less recovery time for most. Over 95% of individuals will have some pain and minor complications but will also have great results with the surgery. This procedure is used on persons 55 years of age and older to make post operative trauma and recuperation easier. All patients will receive a better looking face regardless. Re-animation of the face will take more therapy and sometimes minor surgeries to get the overall look the patient wants.
If you are suffering from facial paralysis or any other related condition, schedule a consultation with Beverly Hills facial paralysis expert Dr. Azizzadeh by calling (310) 657-2203 today!
NERVE TRANSPLANT- Cross Facial Nerve Graft
HYPOGLOSSAL FACIAL NERVE TRANSFER
Request your consultation with Dr. Azizzadeh today
Call us at (310) 657-2203 to schedule an appointment.
Schedule a Consultation