Gracilis Muscle Transplant | Gracilis Free Flap
In patients with long-term facial paralysis (more than 2 years), the native facial muscles are not functional. A transplanted muscle from the groin (gracilis muscle) is necessary if one desires to create a natural and spontaneous facial movement. The gracilis muscle is located in the inner aspect of the thigh. This muscle is very special because it can be transplanted to the face with its nerve, artery, and vein. A small segment can be used in the face and attached to a cross-facial nerve graft or hypoglossal nerve. Dr. Azizzadeh utilizes microsurgical techniques to perform this operation.
In order to determine the candidacy of each patient for this procedure, Dr. Azizzadeh must examine the patient as well as perform pre-operative testing to ensure a successful treatment.
Watch Dr. Azizzadeh Explain Gracilis Muscle Transfer on The Doctors Show
At 12 years old, Gracie suffered from cavernous hemangioma (CH) and lost her ability to smile. Gracie's parents found Dr. Azizzadeh and he was able to give Gracie her smile back! Gracie's smile journey with Dr. Azizzadeh was featured on The Doctors Show.
"I want to show people that you can do anything and that you don't have to change yourself to be the best you can be. You are always the best." -Gracie
---
Before & After Gracilis Muscle Transplant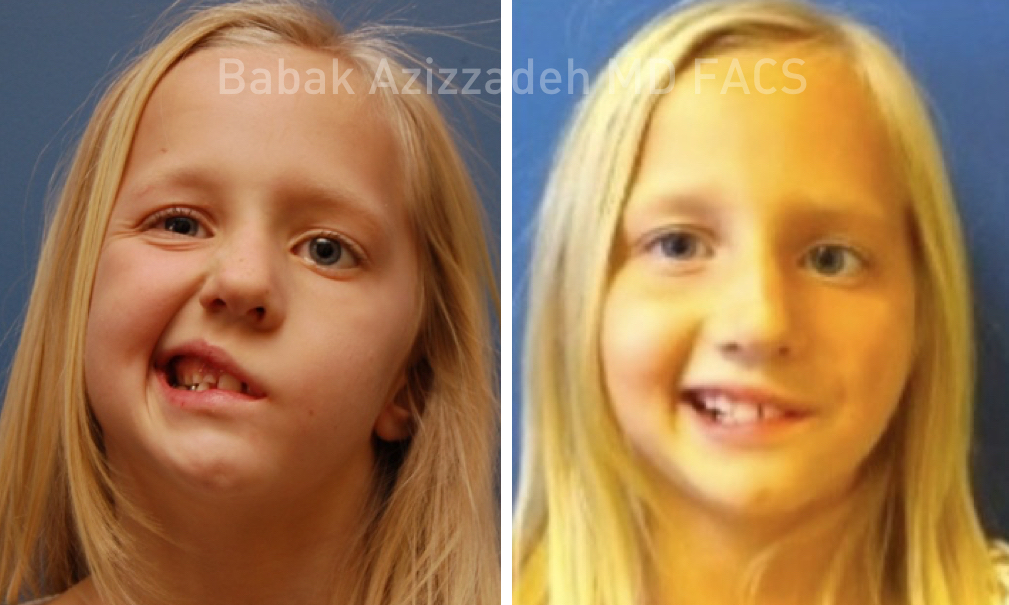 Healed incision after gracilis flap muscle transplant surgery with Dr. Azizzadeh.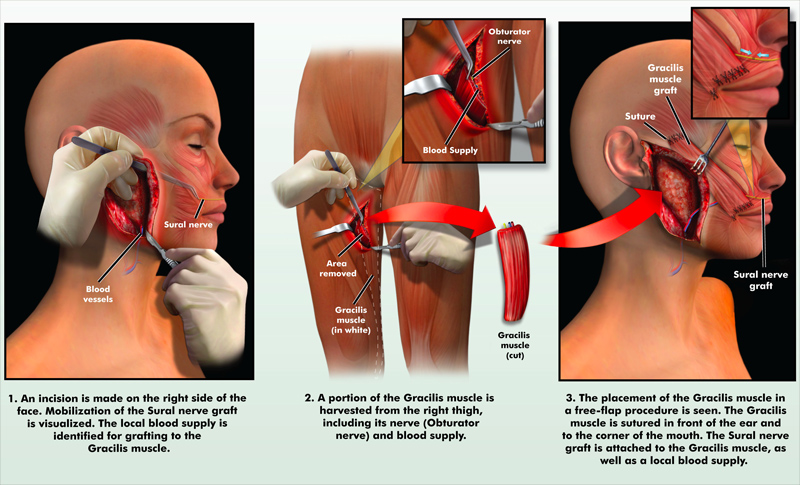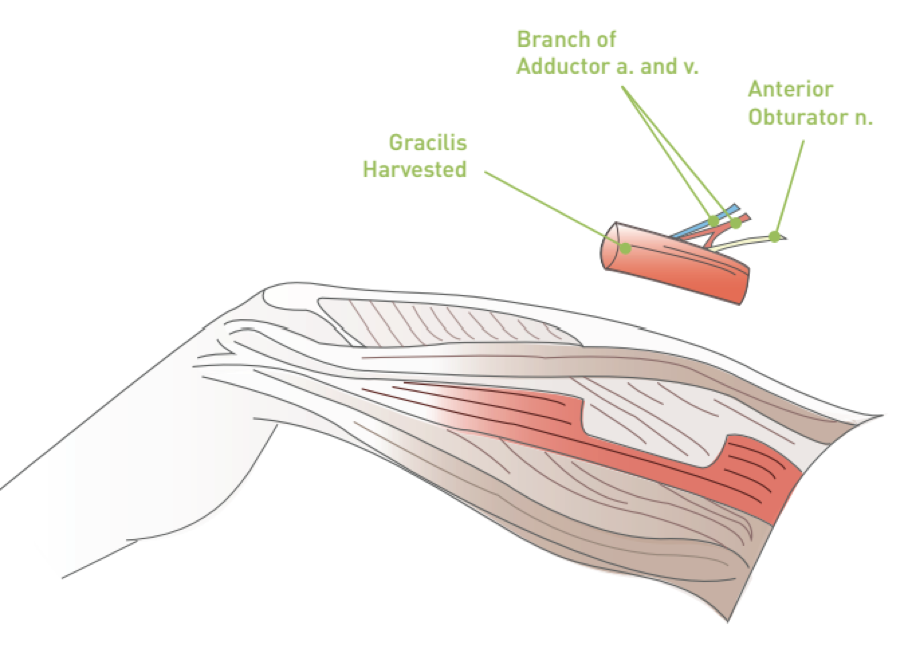 ---
Why Use Gracilis Flap Transfers
The most common indication for gracilis free flap in head and neck reconstruction is for dynamic reanimation of the mid face and, occasionally, for the eye and forehead of the patient with permanent long-standing or congenital facial paralysis. In these 2 types of facial paralysis, the native facial musculature is absent because of either severe atrophy or congenital causes.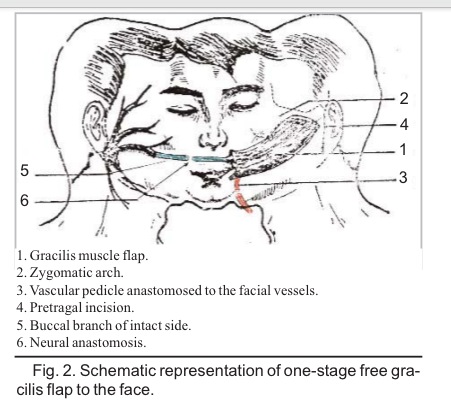 In cases of long-standing secondary facial paralysis, a branch of the contralateral normal facial nerve via a cross-facial nerve graft is used for neural input. In cases of congenital facial paralysis, an alternative nerve graft (trigeminal or hypoglossal nerve) can be used for neural input. Less common indications include reconstruction of total or near-total glossectomy defect, repair of full-thickness scalp defects due to surgery or trauma, and soft tissue filling for surgical defects (eg, orbital exenteration). (Source: Tissue Transfer, Gracilis, Author: Jason H Kim, MD, Assistant Professor, Department of Otolaryngology-Head and Neck Surgery, University of California at Irvine

Illustration showing how the arteries and veins of the gracilis
muscle should be sewn correctly to the facial arteries and veins
during the second stage of facial paralysis reconstruction.
---
Uses of the Gracilis Flap
The Gracilis flap surgery is used for many purposes in reanimation surgery including rebuilding breast in cancer survivors. The Gracilis Free flap method, does have drawbacks for recovery of the donor site in length of time, however the results often outweigh these drawbacks.
---
Summary
The Gracilis flap, if warranted, is a major player in reanimating the nerves and muscles of the face. With the right surgeons and surgical teams this surgical operation can be quick and painless. However recovery time for both the donor site and the reanimation can be longer than other methods. The use of this method of reanimation is used in extreme cases where the surgical team feels other methods would not be as helpful. The Gracilis free flap uses tissue and muscle from the donor area and is most often used when an area of the face is indented because of trauma, or birth defect in the face or neck.
If you are suffering from facial paralysis or any other related condition, schedule a consultation regarding receiving Gracilis flap surgery with Beverly Hills facial paralysis expert Dr. Azizzadeh by calling (310) 657-2203 today!
Request your consultation with Dr. Azizzadeh today
Call us at (310) 657-2203 to schedule an appointment.
Schedule a Consultation