Gracilis Muscle Transplant
In patients with long-term facial paralysis (more than 2 years), the native facial muscles are not functional. A transplanted muscle from the groin (gracilis muscle) is necessary if one desires to create a natural and spontaneous facial movement. The gracilis muscle is located in the inner aspect of the thigh. This muscle is very special because it can be transplanted to the face with its nerve, artery, and vein. A small segment of the muscle can be used in the face and attached to a cross-facial nerve graft or hypoglossal nerve.
What Is a Free Gracilis Muscle Transfer for Facial Paralysis?
A gracilis muscle free flap procedure is a highly specialized surgery in which a small portion of a patient's inner thigh muscle is transplanted into the face. Along with the muscle itself, a gracilis free flap procedure involves transplanting the associated blood supply and nerve into a patient's face.
With a gracilis free flap surgery, the nerve that moves the gracilis muscle (obturator nerve) must be connected to a new nerve supply in a patient's face. When this happens, the obturator nerve can then power the gracilis muscle, enabling the patient to smile, frown, and make other facial expressions.
Dr. Babak Azizzadeh, a globally recognized facial and plastic reconstructive surgeon, utilizes microsurgical techniques to perform a gracilis muscle transplant. In order to determine the candidacy of each patient for this procedure, Dr. Azizzadeh must examine the patient, as well as perform preoperative testing.
What to Expect During a Gracilis Muscle Transplant Consultation
The decision to undergo a gracilis free flap procedure should be considered if a patient is coping with facial paralysis that lingers for two or more years after onset. In this instance, a patient can meet with Dr. Azizzadeh to learn about different facial paralysis treatment options.
The goal of a gracilis free flap treatment consultation is to determine the best course of action to help a patient address his or her facial paralysis symptoms. At this time, Dr. Azizzadeh learns about a patient's medical history, including how long this individual has had facial paralysis and the initial cause of the paralysis. He will also ask the patient to make a variety of facial movements and expressions so he can evaluate the degree of paralysis. Finally, Dr. Azizzadeh learns about a patient's facial paralysis treatment goals.
Following a facial paralysis patient evaluation, Dr. Azizzadeh offers a personalized treatment recommendation. If Dr. Azizzadeh determines a patient is a good candidate, he next explains the procedure and helps the patient establish realistic treatment goals. Or, if a patient does not qualify for a gracilis muscle transplant, Dr. Azizzadeh offers alternative facial paralysis treatment options.
Once a facial paralysis treatment plan is implemented, Dr. Azizzadeh supports his patient throughout all stages of treatment. Following a gracilis free flap procedure or any other facial paralysis treatment, Dr. Azizzadeh monitors his patient's results. In doing so, Dr. Azizzadeh helps his patient achieve the best facial paralysis treatment results.
How Is a Gracilis Muscle Transplant Procedure Performed?
During a gracilis free flap procedure, Dr. Azizzadeh makes a facelift-style incision in front of a patient's ear; this incision extends below the angle of the jaw. Then, Dr. Azizzadeh lifts fat and skin from a patient's cheek. He identifies which blood vessels will be used to restore circulation to the transplanted gracilis muscle as well.
Next, Dr. Azizzadeh removes a portion of the gracilis muscle and its associated blood vessels and nerve from a patient's inner thigh. He transfers the muscle to a patient's face. Finally, Dr. Azizzadeh uses stitches to secure the muscle in place.
A gracilis muscle transplant is a complex and intricate procedure. As such, it is important to choose an expert facial nerve surgeon to perform a this procedure. As one of the world's leading facial nerve experts, Dr. Azizzadeh performs more gracilis muscle transplant procedures than most other surgeons. You can rest assured that in the hands of Dr. Azizzadeh you will have the best smile reanimation results.
How Long Does It Take to Recover from a Gracilis Muscle Transplant?
In most cases, Dr. Azizzadeh performs the gracilis muscle transfer at an outpatient surgery center and the patient can go home the same day as surgery. The initial recovery recovery period is approximately five to twelve days, depending on swelling and bruising. The donor site on the leg will be sore and tender for a few days but the patient will be able to walk.
The full results of the procedure are seen within six to twelve months following surgery. Within about six months of the transplant, a facial paralysis patient will begin to experience improved facial muscle strength as the nerve transfer also settles in. At this point, a patient may be able to produce a smile and make other facial expressions. Meanwhile, a facial paralysis patient's ability to make facial expressions will continue to improve over the course of several years following a gracilis muscle transplant and nerve transfer.
Dr. Azizzadeh strives to provide his patients with long-lasting support. He requests several follow-up appointments after a gracilis free flap procedure to ensure everything is healing and functioning properly.
What Are the Risks Associated with a Gracilis Muscle Transfer Procedure?
Potential surgery complications include bleeding, infection, and anesthesia risks. Complications after a gracilis muscle transfer are rare, and Dr. Azizzadeh prioritizes patient safety throughout surgery.
Watch Dr. Azizzadeh Explain Gracilis Muscle Transfer on The Doctors Show
At 12 years old, Gracie suffered from cavernous hemangioma (CH) and lost her ability to smile. Gracie's parents found Dr. Azizzadeh and he was able to give Gracie her smile back! Gracie's smile journey with Dr. Azizzadeh was featured on The Doctors Show.
"I want to show people that you can do anything and that you don't have to change yourself to be the best you can be. You are always the best." -Gracie
---
Before & After Gracilis Muscle Transplant
A gracilis muscle transplant may help a patient achieve long-lasting facial paralysis relief. Check out our before and after images to see how Dr. Azizzadeh has used gracilis free flap treatments (as well as nerve transfers) to help patients correct their facial paralysis symptoms.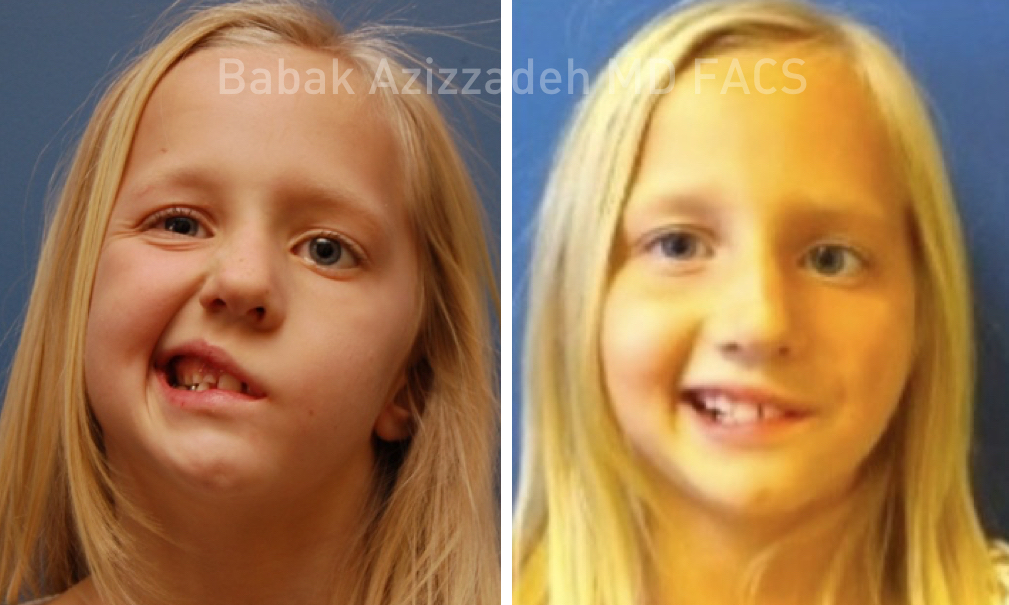 Healed incision after gracilis flap muscle transplant surgery with Dr. Azizzadeh.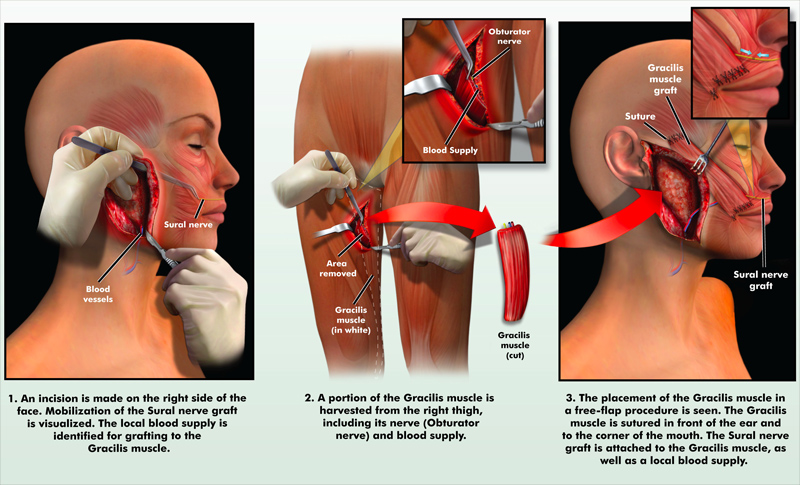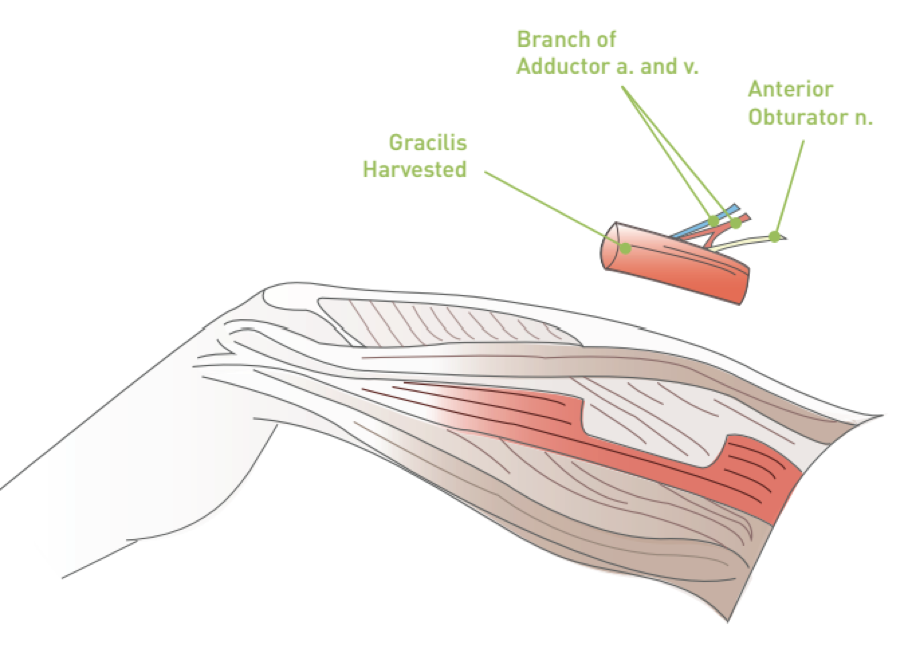 ---
Why Use Gracilis Flap Transfers
The most common indication for gracilis free flap in head and neck reconstruction is for dynamic reanimation of the mid face and, occasionally, for the eye and forehead of the patient with permanent long-standing or congenital facial paralysis. In these 2 types of facial paralysis, the native facial musculature is absent because of either severe atrophy or congenital causes.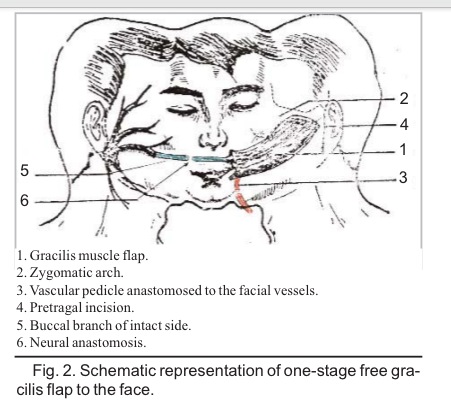 In cases of long-standing secondary facial paralysis, a branch of the contralateral normal facial nerve via a cross-facial nerve graft is used for neural input. In cases of congenital facial paralysis, an alternative nerve graft (trigeminal or hypoglossal nerve) can be used for neural input. Less common indications include reconstruction of total or near-total glossectomy defect, repair of full-thickness scalp defects due to surgery or trauma, and soft tissue filling for surgical defects (eg, orbital exenteration). (Source: Tissue Transfer, Gracilis, Author: Jason H Kim, MD, Assistant Professor, Department of Otolaryngology-Head and Neck Surgery, University of California at Irvine

Illustration showing how the arteries and veins of the gracilis
muscle should be sewn correctly to the facial arteries and veins
during the second stage of facial paralysis reconstruction.
---
Uses of the Gracilis Flap
The gracilis free flap surgery is used for many purposes in reanimation surgery including rebuilding breast in cancer survivors. The gracilis free flap method, does have drawbacks for recovery of the donor site in length of time, however the results often outweigh these drawbacks.
Is a Gracilis Free Flap Facial Reanimation Surgery Effective?
A free gracilis muscle transfer can be reliable and safe and help patients improve their quality of life, which is reflected in a Journal of Cranio-Maxillofacial Surgery study of 42 patients.
In the study, patients received a gracilis muscle transplant reinnervated via cross-face graft. Patients were evaluated via a preoperative and postoperative facial disability index questionnaire.
The study revealed a free gracilis muscle transfer can be used to treat congenital or established facial palsies. It also showed that this procedure can provide a reliable, safe surgery for facial paralysis, as well as help patients improve their quality of life.
Is a Gracilis Muscle Free Flap Procedure Right for You?
Dr. Azizzadeh believes there is no one-size-fits-all surgery to address all types of facial paralysis, and he tailors a treatment to his patient. First, Dr. Azizzadeh conducts a patient evaluation, so he can learn about the patient and their facial paralysis symptoms. Dr. Azizzadeh also performs a series of tests as part of his patient evaluation, which enable him to identify a safe, effective way to treat the patient's facial paralysis.
---
Summary
The Gracilis flap, if warranted, is a major player in reanimating the nerves and muscles of the face. With the right surgeons and surgical teams this surgical operation can be quick and painless. However recovery time for both the donor site and the reanimation can be longer than other methods. The use of this method of reanimation is used in extreme cases where the surgical team feels other methods would not be as helpful. The Gracilis free flap uses tissue and muscle from the donor area and is most often used when an area of the face is indented because of trauma, or birth defect in the face or neck.
Dr. Azizzadeh is available to teach patients about gracilis free flap surgery and other facial paralysis procedures. To learn more or to schedule a consultation with Dr. Azizzadeh, please contact us online or call us today at (310) 657-2203.