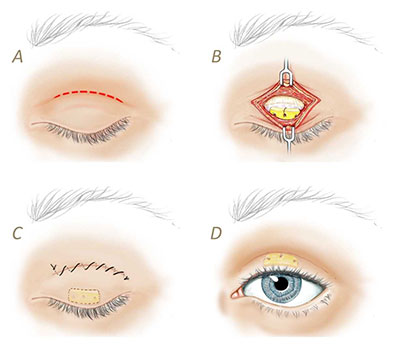 An unfortunate result of most types of facial paralysis is the loss of the ability to close the eyelid. The inability to blink and close the eye puts the eye at great risk for injury or infection due to the fact the eyelid keeps the eyeball lubricated and protected from foreign objects. Sometimes in patients with facial palsy, normal eyelid function does return, but for those who do not regain movement, the surgical implantation of gold eyelid weights may be an effective option. Babak Azizzadeh, MD, FACS is a world-renowned expert in the field of facial paralysis who works alongside a team of oculoplastic surgeons whom have helped countless patients regain normal eyelid function through the use of gold weights. Dr. Azizzadeh and his team are experts in gold eyelid weights treatments for facial paralysis patients to help them regain the eyelid function.
---
---
What Are Eyelid Gold Weights?
To help prevent eye damage and restore the eyelid closure movement that has been impaired by facial paralysis, a small gold weight can be surgically implanted inside of the upper eyelid. The gold eyelid weight is made to assist the eyelid in closing using only weight and gravity. Eyelid gold weights are made in a variety of sizes and weights to ensure that each patient gets the perfect weight for them. During a consultation with Dr. Azizzadeh and an oculoplastic surgeons at the Facial Paralysis Institute, the best size and weight for your unique case will be decided upon.
Treating Incomplete Eye Closure Due to Facial Paralysis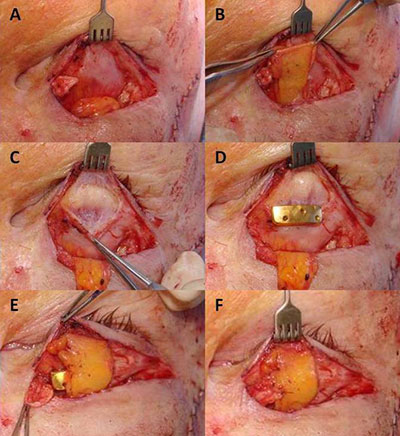 There are several different surgical options for treating incomplete eye closure caused by facial paralysis, though eyelid gold weights are often considered one of the best. The treatment option will depend on each individual patient's underlying etiology and will be determined by Dr. Azizzadeh during the consultation. Gold weights have proven to be an effective way to restore eyelid closure in patients with facial paralysis and often reduce the need for lubricating eye drops and eye-protecting devices.
The process for gold weight implantation will begin with the selection of the most fitting weight for the patient's eye. Dr. Azizzadeh will temporarily attach goldweights of different sizes and weights to the patient's lid to find the one that produces the most natural eyelid closure. Once the proper weight is determined, Dr. Azizzadeh and his team of highly specialized experts will implant the weight in the upper eyelid. The most commonly used procedure for implanting eyelid goldweights involves incising the upper eyelid crease and cutting through the muscle in order to expose the area where the gold weight is anchored directly with sutures. The gold weight will then use the power of gravity to close the eyelid and allow the patient to blink once again.
Although gold weight placement may be clinically beneficial for many patients, this procedure alone may be inadequate in some with facial paralysis or Bell's palsy. Thus, lower eyelid reconstruction is often needed as well to achieve optimal results and to reduce long-term complications in patients receiving gold weight placement.
Benefits of Gold Eyelid Weights
The benefits of gold eyelid weights for facial paralysis patients include:
Improved blinking
Improved eyelid closure
Enhanced protection for the surface of the eye
Relief of dry eye symptoms
Dr. Azizzadeh is happy to teach facial paralysis patients about gold eyelid weights, how they work and their benefits. By doing so, Dr. Azizzadeh helps patients determine if gold eyelid weights can help them achieve their desired results.
---
Candidates For Eyelid Gold Weights
Gold eyelid weights are safe and effective and have been shown to help facial paralysis patients restore the eyelid function. A good candidate for this particular treatment is a patient suffering from some form of facial paralysis that is inhibiting natural eyelid closure. There are a couple of other options available as well, like platinum weights and eyelid springs, and the best treatment option for your specific case will be carefully considered by the team at the Facial Paralysis Institute. If you are struggling with the side effects of not being able to blink or close your eyes and are looking for minimally invasive, natural-looking solution, contact the Facial Paralysis Institute today to schedule a consultation with Dr. Azizzadeh and his team of oculoplastic surgeons to discuss the treatment that is right for you.
What to Expect During a Gold Eyelid Weights Consultation
Gold eyelid weights are an advanced facial paralysis treatment, and Dr. Azizzadeh requires a patient consultation to determine if it is the proper treatment. During a consultation, Dr. Azizzadeh learns about a patient and his or her facial and eyelid paralysis symptoms. He also performs various tests to assess a patient's condition so he can provide the best-possible treatment recommendations.
If Dr. Azizzadeh determines a patient is a viable candidate for gold eyelid weights, he will outline all aspects of the treatment. He will explain what a patient should expect during an gold eyelid weights procedure, as well as recovery following treatment. Additionally, Dr. Azizzadeh allocates time and resources to respond to a patient's gold eyelid weights treatment concerns and questions. Dr. Azizzadeh strives to ensure a patient is comfortable with an gold eyelid weights procedure. As such, Dr. Azizzadeh will do whatever he can to help a patient make an informed treatment decision.
Gold Eyelid Weights FAQ's
Q: What is the recovery like after gold eyelid weight implantation?
A: The procedure is typically performed on an outpatient basis, meaning the patient can return home the very same day. The patient is usually able to close their eye immediately following implantation and the function improves with time. Some swelling and/or bruising of the treatment area is common after surgery, but will heal in the coming weeks.
Q: Will the gold weight be visible once it's implanted?
A: There will be a slightly visible bump on the eyelid where the gold weight is implanted. The goal is to place it in the contour of the upper eyelid where it will be as inconspicuous as possible. There are other treatment options, like Platinum Chains, that have been shown to be even less apparent upon implantation. During your consultation with Dr. Azizzadeh, world-renowned facial paralysis expert, the best treatment for you will be decided upon.
Q: Why are the weights made of gold?
A: The gold makeup makes this type of implant safe for use in MRI scans, which is important as patients with facial palsy may need to be able to have imaging done as their condition is monitored. It is also unusual for gold to irritate a patient's skin, making it a good choice for use on the delicate skin of the eyelid.
Q: How much do gold eyelid weights weigh?
A: Although gold eyelid weights are constructed from a strong, heavy metal, they are lightweight and won't interfere with the eye or eyelid. Generally, gold eyelid weights weigh between 1.0 and 1.5 grams, or about the same weight as a jelly bean.
Q: What are the dangers of not having complete eye closure?
A: Closing our eyes allows us to protect them from foreign objects entering and causing damaging. Our eyes also lubricate themselves naturally through the blinking process, and not being able to blink can cause the eyes to become painfully dry. It is important to seek treatment for incomplete eye closure to prevent permanent damage and pain.
Q: Are there other treatments available to treat inadequate eyelid closure?
A: There are a number of different treatment options available to help restore eyelid function in patients with facial paralysis, and Dr. Azizzadeh will determine the best course of action during your consultation. Aside from gold weights, platinum chains and eyelid springs are two of the most commonly performed procedures that have proven to be highly successful in helping patients with facial paralysis or Bell's palsy.
---
Why Trust the Facial Paralysis Institute?
The doctors at the Facial Paralysis Institute are experts in their field and believe that a multidisciplinary approach to facial palsy treatment ensures the best results. When performing eyelid surgeries, Dr. Azizzadeh works closely with oculoplastic surgeon Guy Massry, MD in order to effectively treat impaired eyelid function caused by facial paralysis.
Babak Azizzadeh, MD, FACS is a board-certified facial plastic surgeon, trained at Harvard, whose expertise in facial paralysis makes him one of the most highly regarded facial plastic surgeons in the country. In addition to being featured in various media outlets like Discovery Health, The New York Times, and the Oprah Winfrey Show, Dr. Azizzadeh is actively involved in research as well as teaching medical students at UCLA.
Guy Massry, MD is an oculoplastic surgeon specializing in cosmetic surgery of the eyelids. Known as "Dr. Fix-It," Dr. Massry is a graduate of the USC School of Medicine and is highly regarded among his peers for his work and research in the field of oculoplastic surgery.
Together, Dr. Azizzadeh and Dr. Massry collaborate to give their facial paralysis patients the best possible result when it comes to restoring eyelid function.
---
Contact the Expert Team at the Facial Paralysis Institute Today
If you are interested in learning more about gold eyelid weights and how they can help you regain the ability to close your eyes, contact facial paralysis expert Babak Azizzadeh, MD, FASC, and the expert oculoplastic surgeons at the Facial Paralysis Institute in Beverly Hills today to schedule a consultation by calling (310) 657-2203. There is no need to continue suffering through painful dry eyes and eye damage caused by your facial palsy condition.
Request your consultation with Dr. Azizzadeh today
Call us at (310) 657-2203 to schedule an appointment.
Schedule a Consultation