Facial paralysis synkinesis refers to the "simultaneous movement" that occurs after Bell's palsy or instances where the facial nerve has been cut and sewn back together. In patients who previously dealt with Bell's palsy, the facial nerve fibers may be implanted into different muscles and can inadvertently cause unwanted and involuntary movement of the facial muscles. Or, if the facial nerve has been resewn, the facial nerve fibers may reconnect to the wrong nerve group, leading to undesired and simultaneous facial movements.
What is Synkinesis?
Facial paralysis synkinesis results in an abnormal synchronization of facial movement. When this happens, an involuntary facial movement may occur during voluntary movement of a different facial muscle group.
Dr. Babak Azizzadeh of The Facial Paralysis Institute can help patients coping with synkinesis and other issues that hamper their ability to frown, smile, and make other facial expressions. He can evaluate a patient's synkinesis symptoms and offer expert insights into a wide range of treatment options.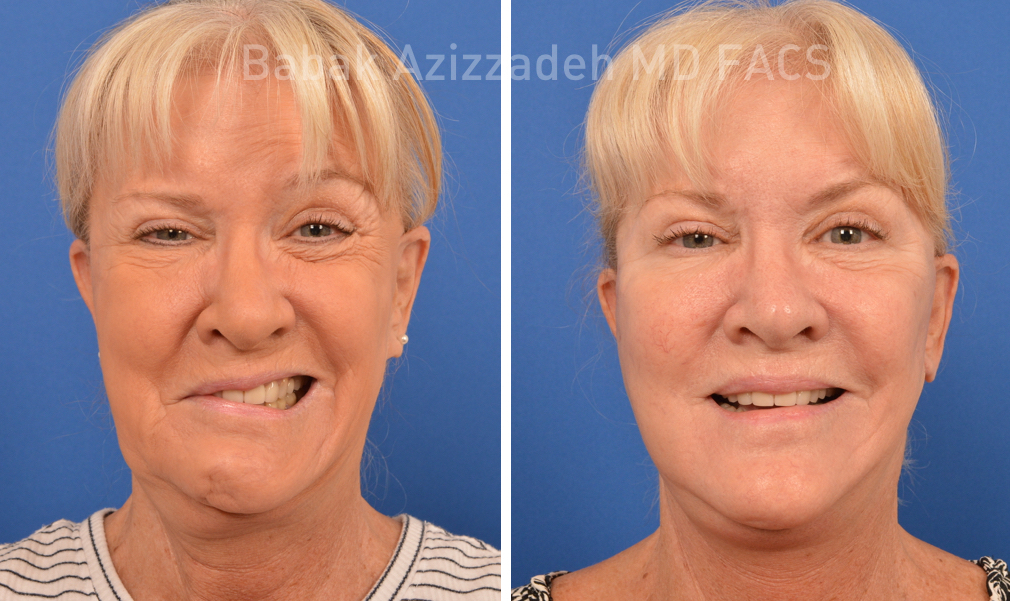 What Are the Signs of Synkinesis?
Common signs of synkinesis include:
The eyes narrow when an individual smiles
The cheek lifts when a person closes his or her eyes
The neck muscle tightens when a person tries to whistle
Facial twitching in the cheek and chin
Facial muscles become tight, leading to facial pain and headaches
A deeper cheek crease forms on the affected side of the face, causing the cheek to appear bulky
People who notice signs of facial paralysis synkinesis should consult with a doctor. That way, they can determine if they are coping with synkinesis or another medical condition and receive appropriate treatment.
Facial Paralysis Synkinesis Symptoms
Many symptoms associated with synkinesis include the following:
Increased tone in the facial muscles: Muscle tone may increase in the affected side of an individual's face. In fact, a person likely will need to work two to three times harder to move these muscles than he or she would to move the muscles in the unaffected side of the face.
Short, tight facial muscles: Facial muscles may become short and tight if they are overworked for an extended period of time. When this occurs, it may be difficult for an individual to move the muscles to display facial expressions.
Linked facial movements: Linked facial movements will happen if a recovering facial nerve is poorly insulated. In this scenario, the message to move a particular muscle may be picked up by a nearby muscle, resulting in several simultaneous muscle movements (ie. when the patient smiles their eye narrows and closes too). Furthermore, linked facial movements may continue to occur after the facial nerve has fully recovered.
Facial muscle coordination problems: Coordinating facial movements can be exceedingly difficult, particularly for those who are recovering from a facial nerve issue.
A synkinesis patient may display various facial muscle patterns. In many instances, eye closure can be challenging, and a patient's eyes may twitch or close when this individual laughs or smiles. Also, facial synkinesis may cause the corner of the mouth to pull upward in patients who have regained their facial tone. The synkinetic (simultaneous) movement of muscles can cause the corner of the mouth (depressor anguli oris, platysma and mentalis muscles) to droop and elevate nearby muscles (zygomaticus major and minor). Therefore, it may be difficult for a patient to smile appropriately.
Other signs of facial synkinesis include:
Dimpling in the chin
Narrowing of the eye affected
Increased facial muscle spasms
Tightness of the neck bands and cheeks
Facial muscle tension
This often results in abnormal facial muscle patterns that can range in severity. As a result of Dr. Azizzadeh's advancements in the field of facial reanimation surgery, patients now have several treatment options to choose from.
How Is Synkinesis Diagnosed?
A physical examination and a medical history assessment are required to provide an accurate diagnosis. The location of a facial nerve injury and the severity of the injury can also help a doctor determine if a patient is dealing with synkinesis.
Synkinesis occurs for a variety of reasons, and a comprehensive is crucial to ensure a proper diagnosis. Once a patient is diagnosed, multiple treatment options can be explored.
Facial Paralysis vs. Synkinesis
Many patients ask us to explain the difference between facial paralysis vs. facial synkinesis. In the video below, our occupational therapist, Jackie Diels, explains the two conditions in detail.
How to Prevent Synkinesis
Synkinesis cannot be prevented, however, there are certain things that patients can do to minimize its effect after Bell's palsy.
"Facial re-education" is sometimes used to help minimize the effects of synkinesis after Bell's palsy. It involves teaching a patient how to perform various facial exercises, such as keeping the face up when speaking and chewing food with the eyes open. Facial re-education also involves wearing sunglasses to prevent squinting and massaging the intraoral buccal area.
For patients who undergo facial re-education after Bell's palsy, they may need treatment sessions for up to four months. Patients generally work on slow and symmetric movements during facial re-education training sessions. Over time, these movements help improve facial muscle coordination.
Before a patient undergoes facial re-education after Bell's palsy, it is important to consult with an experienced occupational therapist or physical therapist who is specifically trained in treating facial nerve disorders. An OT or PT can provide the patient with a specific set of exercises that are appropriate for their unique presentations of Bell's palsy.
Synkinesis Treatment Options
Treatment is based on three modalities:
Neuromuscular retraining (physical therapy)
Botox (botulinum toxin)
Treatment can be administered any time after the condition is diagnosed. Furthermore, a patient can use neuromuscular retraining, Botox or surgery to treat synkinesis even years after suffering from Bell's palsy or facial paralysis.
Selective Neurolysis – Modified Selective Neurectomy
Selective neurolysis, also referred to as modified selective neurectomy, is the most advanced surgery option for patients with synkinesis. Dr. Azizzadeh pioneered the selective neurolysis procedure for his patients who could not generate a proper smile due to their synkinesis and partial facial paralysis.
Patients who do not fully recover from Bell's palsy are likely to develop synkinesis. Because this is a result of the facial nerves becoming "mis-wired," when patients use various muscles (depressor anguli oris, platysma, orbicularis oris and buccinators) to produce a natural smile, the end result is often an asymmetric smile. To treat this issue, the facial nerves must be re-wired to reduce the activity of the nerves that negatively impact a patient's ability to create a natural smile.
Dr. Azizzadeh uses selective neurolysis to correct "mis-wiring" of the facial nerve. He performs this surgery at an outpatient surgery center, and the risks associated with the procedure are generally minimal in comparison to other facial reanimation surgeries.
Modified selective neurectomy enhances facial and smile symmetry and improves facial muscle coordination. It also reduces functional tightness in the face and ensures an individual is well-equipped to smile naturally.
During selective neurolysis, Dr. Azizzadeh releases the platysma muscle, decreasing nerve activity that pulls the mouth downward and enabling the corners of the mouth to turn upward once again. Furthermore, selective neurolysis is a complex and intricate procedure, but the recovery period is rather minimal, similar to that of a facelift.
Selective neurolysis typically delivers immediate results. Whereas some facial reanimation surgeries require two to three years before a patient achieves the final results, initial treatment results may become visible within one day of surgery.
Each selective neurolysis procedure is customized to a patient. Prior to treatment, Dr. Azizzadeh evaluates a patient's smile capabilities to determine their eligibility for selective neurolysis. If Dr. Azizzadeh believes this surgery can help a patient produce a natural smile, he then crafts a personalized treatment plan.
Other treatment options to address synkinesis include:
Static suspension of the corners of the mouth
Blepharoplasty (eyelid surgery)
Asymmetric Facelift
During your consultation, all options are discussed at length to determine if you are an appropriate candidate.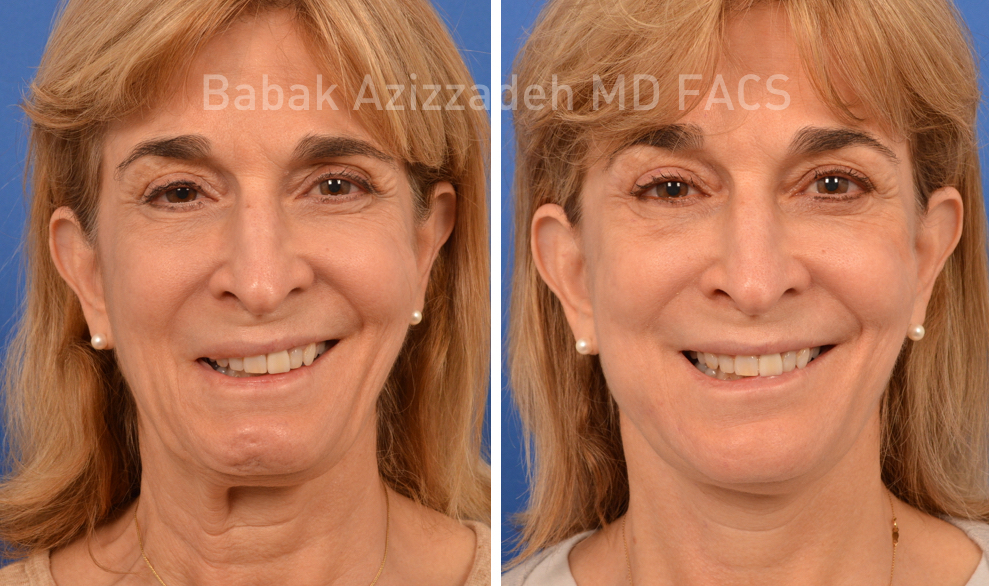 Botox for Synkinesis
Facial synkinesis for Botox involves the use of an injectable prescription to correct involuntary facial muscle movements. Botox injections may be used in combination with selective neurolysis and/or facial neuromuscular therapy. They reduce muscle activity, minimizing the synkinesis effects associated with overactive and uncoordinated muscles.
The most common injection areas for Botox are:
Eye muscles (orbicularis)
Neck bands (platysma)
Chin dimpling (mentalis)
Botulinum Toxin injections can also be used to improve facial symmetry by reducing the activity of certain muscles on the normal side of the face, such as:
Forehead
Lower lip depressors (depressor anguli oris)
Crow's feet (orbicularis)
Dr. Azizzadeh carefully evaluates a synkinesis patient's jaw muscles and other facial features to determine if Botox can be safely performed. If Dr. Azizzadeh believes a patient can benefit from Botox, he determines how much Botox should be used and where it should be injected into the patient's face.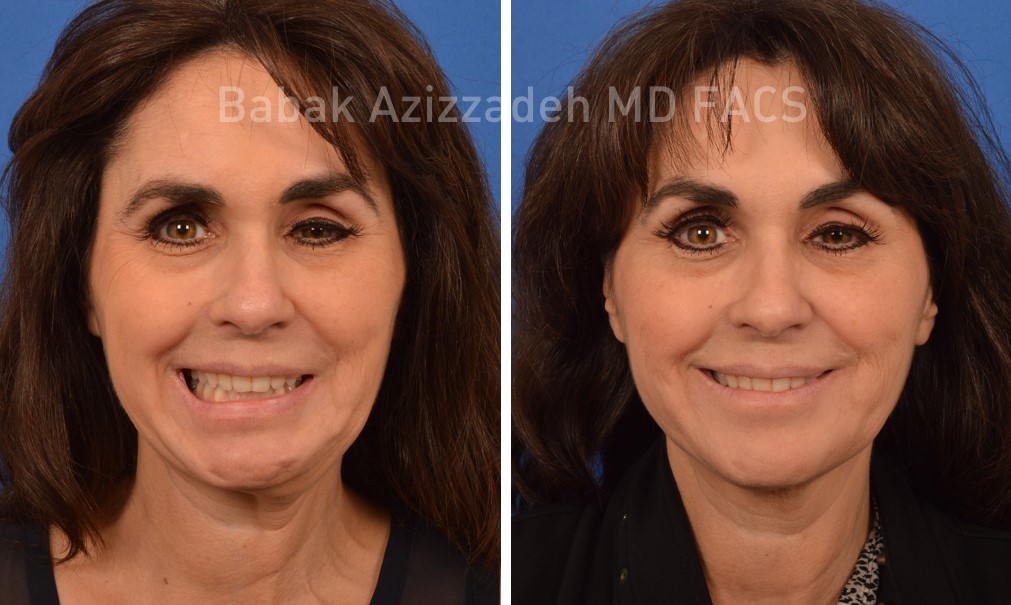 Physical Therapy and Neuromuscular Retraining for Synkinesis
Facial neuromuscular retraining emphasizes the coordination of appropriate facial muscle movements. With facial neuromuscular retraining, a synkinesis patient can limit abnormal movement patterns that otherwise would result in "auto-paralysis" of different facial muscle groups.
During physical therapy, the facial muscles that are contracting out of sequence in a synkinesis patient are identified. Then, a multi-step process is used to help a patient retrain the muscles at the neurological (brain) level. Our therapists may use both neuromuscular retraining and massage techniques to provide you with the best results.
Electrical stimulation increases overactive muscles, and as such, should not be used as part of neuromuscular training. Instead, tight overactive muscles are manually massaged and stretched. For example, patients are taught how to relax the affected eyelids to reduce eye synkinesis. In addition, neuromuscular retraining focuses on muscle re-coordination rather than stimulation, and patients should not perform muscle-strengthening exercises as part of this treatment.
Typically, 90 percent of synkinesis exercises can be performed at home. A therapist will teach a patient how to perform these exercises properly and ensure that he or she fully understands the ins and outs of each exercise. The therapist may teach a patient how to perform mirror and video exercises as well.
What To Expect During A Synkinesis Treatment Consultation With Dr. Azizzadeh
A synkinesis treatment consultation allows Dr. Azizzadeh to learn about a patient and to review their treatment options.
Initially, Dr. Azizzadeh performs a series of tests to assess a patient's symptoms. Then he develops a personalized treatment plan. He also answers a patient's synkinesis questions and ensures he or she can make an informed treatment decision. He describes how long a synkinesis treatment requires to complete and enables a patient to establish realistic recovery expectations. Plus, Dr. Azizzadeh offers detailed instructions to help a patient prepare for his or her synkinesis treatment.
Synkinesis FAQ
Are synkinesis symptoms identical for all patients?
Every synkinesis patient is different, and the severity of synkinesis symptoms vary from patient to patient. For example, some patients will experience muscle tension in their neck, while others will have facial twitching.
Can a facial nerve injury contribute to synkinesis symptoms?
Synkinesis may be attributed to damage to the temporomandibular joint or other facial joints. Dr. Azizzadeh can assess any facial nerve damage to determine if it contributes to a patient's symptoms.
Can stress and anxiety cause synkinesis?
Stress and anxiety won't cause synkinesis, but they can cause involuntary facial muscle movements. For example, people coping with stress and anxiety may be prone to involuntary facial twitching and grimacing. On the other hand, synkinesis may cause similar issues to occur.
People who continuously experience involuntary facial muscle movements should pursue a medical diagnosis and treatment. This ensures that people can uncover the root cause of their involuntary facial movements and treat these issues accordingly.
How are facial synkinesis and Bell's palsy related?
Bell's palsy patients who undergo treatment but do not recover from it may be susceptible to synkinesis. Yet, synkinesis does not always occur in combination with Bell's palsy. If patients experience synkinesis symptoms, they should receive a medical diagnosis, regardless of whether they previously experienced Bell's palsy.
Does Bell's palsy cause synkinesis?
In most cases, Bell's palsy symptoms disappear on their own. Approximately 10 percent of Bell's palsy patients experience synkinesis, and 5 percent suffer complete facial paralysis.
For those who experience Bell's palsy symptoms for eight months or longer, a consultation with Dr. Azizzadeh is crucial. Dr. Azizzadeh is dual board-certified in facial plastic and reconstructive surgery and head and neck surgery, and he can perform an in-depth patient evaluation to determine if a patient is dealing with synkinesis or complete facial paralysis.
Are synkinesis treatments safe?
Dr. Azizzadeh performs a synkinesis treatment only if he believes it can help a patient safely and effectively achieve his or her desired results. He also conducts an in-depth evaluation of a patient to identify any potential synkinesis treatment risks. If Dr. Azizzadeh believes the risks of a synkinesis treatment exceed its benefits, he offers alternative treatment options.
How long does it take before I will see the results of a synkinesis procedure?
The results of a synkinesis procedure become transparent shortly after treatment. However, each patient is different, and each treatment is tailored to a patient. This means some patients will see the results of a treatment faster than others.
Dr. Azizzadeh helps his patients set realistic expectations for a treatment. Before he performs a synkinesis procedure, he establishes a plan that offers insights into all aspects of treatment. This helps a patient understand what to expect in the days, weeks and months after a synkinesis procedure.
How long does it take to recover from a synkinesis procedure?
Dr. Azizzadeh strives to help patients recover from synkinesis procedures as quickly as possible. He provides full details about the treatment's recovery period, as well as offers tips and recommendations to streamline the recovery process.
Are facial paralysis synkinesis treatments covered by insurance?
There may be instances in which a patient's insurance provider covers a portion of or the entire cost of a synkinesis treatment. If facial paralysis occurs, an insurance company may deem treatment medically necessary and offer partial or full coverage. However, not all insurance providers offer coverage for essential facial reanimation procedures.
The Facial Paralysis Institute works with insurance providers to help synkinesis patients keep their treatment costs as low as possible. In addition, the Facial Paralysis Institute team can review a patient's insurance coverage to help him or her determine how to treat their synkinesis symptoms without breaking their budget.
Are facial synkinesis exercises necessary to treat involuntary facial muscle movement?
Dr. Azizzadeh can evaluate a patient and determine if facial synkinesis exercises are necessary to help him or her accomplish their desired results.
How are facial synkinesis exercises performed?
An OT or PT teaches a patient how to perform facial synkinesis exercises and provides him or her with a custom exercise regimen. Once the patient knows how to correctly perform these exercises, he or she is responsible for completing them based on the therapist's recommendation.
Patients who perform facial synkinesis exercises as requested put themselves in a great position to improve their facial symmetry and alleviate their facial paralysis synkinesis symptoms. Comparatively, patients who ignore these exercises may struggle to overcome their synkinesis symptoms.
What should I do if I experience pain when completing facial synkinesis exercises at home?
Patients should notify Dr. Azizzadeh if they experience pain or have any concerns or questions when they perform facial synkinesis exercises at home. At this point, Dr. Azizzadeh can determine if a follow-up appointment is necessary.
What is the best treatment for synkinesis?
A patient evaluation is required to determine the optimal treatment. With a patient evaluation, Dr. Azizzadeh analyzes a patient's synkinesis symptoms. Dr. Azizzadeh then crafts a custom treatment plan to help a patient permanently address his or her facial paralysis.
How much does a facial paralysis synkinesis treatment cost?
The cost of a synkinesis treatment varies. Dr. Azizzadeh explains the cost of surgery, Botox, or neuromuscular retraining before treatment is performed. He also does everything possible to ensure that the cost of treatment does not hamper a patient's ability to get the help necessary to relieve their synkinesis symptoms.
Can a facial paralysis synkinesis treatment consultation be conducted virtually?
Dr. Azizzadeh can meet with a patient in-person or virtually to discuss synkinesis treatment. A virtual consultation is nearly identical to an in-person meeting, and it enables Dr. Azizzadeh to evaluate a patient if he or she cannot visit the Facial Paralysis Institute's Beverly Hills office.
How does a virtual synkinesis treatment consultation work?
Dr. Azizzadeh uses a virtual consultation to learn about a patient and their synkinesis symptoms. He requests photographs and other patient information before the meeting and encourages his patients to ask questions during the session. If Dr. Azizzadeh believes a patient can benefit from a synkinesis treatment, he crafts a treatment plan following the virtual consultation.
Contact The Facial Paralysis Institute Today!
Dr. Azizzadeh is a globally recognized facial plastic and reconstructive surgeon who has treatment many patients with synkinesis. To learn more about your treatment options or to schedule a consultation, please contact us online or call us today at (310) 657-2203.