Hemifacial microsomia (HFM) is a congenital condition that results in underdevelopment of the face. The condition typically affects the ear, mouth, and jaw. However, HFM patients can also experience underdevelopment of the eyes, cheeks, neck, and parts of the skull.
HFM can compromise facial development. But, the condition can be treated surgically.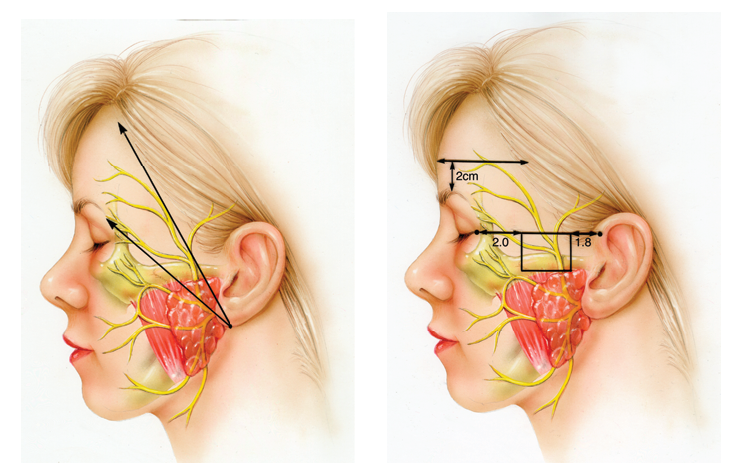 At The Facial Paralysis Institute in Beverly Hills, globally recognized facial plastic and reconstructive surgeon Dr. Babak Azizzadeh strives to provide cutting-edge care to those who suffer from HFM. He teaches his patients about HFM and can help them evaluate various treatment options.
What Is
Hemifacial Microsomia
?
Hemifacial microsomia can occur on one or both sides of the face. It is present at birth and affects the lower half of the face, including the ears and mouth. These features do not develop properly to match the upper portion of the face. As such, they can cause an asymmetrical facial appearance. HFM can also cause breathing problems and other functional issues.
HFM can occur as a form of craniofacial microsomia, which causes abnormalities that can affect the development of a patient's skull (cranium) and face. Patients coping with craniofacial microsomia tend to have ear abnormalities that impact one or both of the ears. They are also susceptible to abnormalities that can affect the eyes, spine, kidneys, and heart.
Along with craniofacial microsomia, HFM has been linked to Goldenhar syndrome, a rare congenital condition that can affect the facial structure. Patients dealing with Goldenhar syndrome are prone to HFM, spine and rib cage abnormalities, and congenital scoliosis.
Craniofacial microsomia and Goldenhar syndrome can occur on their own or in conjunction with HFM. To determine if a patient is dealing with HFM, it is paramount to understand the symptoms associated with this condition.
Hemifacial Microsomia
Symptoms
Common HFM symptoms include:
Underdevelopment of the lower and upper jaws

Difficulty chewing

Flat forehead and/or cheek

Facial asymmetry

Underdeveloped or missing external ear

Hearing loss

Loss of sensation in the face
HFM symptoms can range in terms of severity. At the first sign of HFM symptoms, a patient should pursue medical treatment. That way, the patient can explore HFM treatment options and discover the best way to alleviate their symptoms.
Causes of Hemifacial Microsomia
Hemifacial microsomia develops in the fetal stage of pregnancy, usually between four and eight weeks of gestation. However, HFM has no definitive causes.
There are no studies that link HFM to a mother's actions or activities during pregnancy. Researchers have stated that HFM may occur due to a lack of blood supply to the fetus' branchial arches in the first eight weeks of pregnancy. Vascular blockages or lack of blood supply to the face can contribute to abnormal development of the lower region of the face.
Adults can expect a 1% chance of transferring hemifacial problems to their children. Furthermore, medical cases have been reported in which HFM occurs multiple times in a family, but researchers have not identified genes linked in the condition
How Is
Hemifacial Microsomia
Diagnosed?
HFM symptoms can appear during a prenatal ultrasound, and the condition can be diagnosed after birth.
To diagnose HFM, a doctor will evaluate a patient's facial appearance. The doctor will assess the patient's jaw. He or she will also look for any signs of an asymmetrical facial appearance.
Along with a physical examination, a patient can receive X-rays and CT scans. These tests allow a doctor to review a patient's bone and cartilage structure.
Does
Hemifacial Microsomia
Get Worse with Age?
Research indicates that HFM is a progressive skeletal and soft-tissue deformity. If left untreated, facial asymmetry caused by HFM can get worse over time. HFM can lead to severe facial deformities. It can also contribute to low self-esteem and other psychological problems.
Those who experience any symptoms of HFM or notice them in their children should seek out medical treatment right away. In doing so, patients can receive a proper diagnosis. Plus, they can pursue myriad treatment options before HFM causes long-lasting facial deformities.
What Is the Best
Hemifacial Microsomia Treatment for Adults
?
The best hemifacial microsomia treatment depends on the patient and their symptoms.
In one study, researchers evaluated the treatment of a 22-year-old HFM patient. They found that extending the patient's left mandibular ramus (part of the lower jaw) helped the patient correct facial asymmetry. Also, they noted that postoperative orthodontic treatment improved the patient's tooth alignment and ability to open and close the mouth.
Another study was used to assess the safety and efficacy of surgery to treat 14 HFM patients. The study revealed surgery provided a "significant improvement" to correct facial asymmetry in these patients.
Researchers continue to evaluate different HFM treatment options. For adults who experience HFM symptoms and require immediate treatment, Dr. Azizzadeh can provide assistance.
Dr. Azizzadeh conducts an evaluation to determine the optimal treatment for an HFM patient. In HFM cases, Dr. Azizzadeh uses surgical procedures to treat the jaw and ear areas. When children dealing with HFM have surgery, the bone and soft tissue can be corrected to restructure the face in a more symmetrical way. Lengthening the jaw with a bone graft and ear reconstruction are common HFM treatment options.
A Closer Look at
Hemifacial Microsomia Surgery
Dr. Azizzadeh tailors hemifacial microsomia surgery to his patient. A surgical treatment for HFM can involve any of the following procedures:
Lower jaw reconstruction

Reconstruction of the external ear

Repair of a cleft lip and/or palate

Plastic surgery in the cheek's soft tissue

Bone distraction (placement of a device used to lengthen the jaw)
Dr. Azizzadeh evaluates a patient to determine which HFM surgery option can be both safe and effective. He also crafts a custom HFM surgery plan designed to help a patient achieve long-lasting treatment results.
In addition, Dr. Azizzadeh requests follow-up appointments in the weeks and months following HFM surgery. These appointments allow Dr. Azizzadeh to track his patient's progress as he or she recovers from treatment. They enable patients to share any post-surgery concerns and questions with Dr. Azizzadeh as well.
Hemifacial Microsomia Surgery for Children
Hemifacial microsomia surgery for children can involve one or more procedures to correct underdevelopment of bone and soft tissue in the face. Common surgeries for children dealing with HFM include:
Lowering the upper jaw to match the opposite side and lengthening the lower jaw.

Using a bone graft to lengthen the jaw.

Ear reconstruction at about 5-6 years of age, which can involve three to four surgeries.

Addition of bone to build up the cheekbone.

Addition of soft tissue to

improve facial symmetry.
The ideal age for HFM surgery depends upon the surgeon and the general condition of the child. HFM surgery for a child is only recommended if the procedure can be safely performed.
A child may have skin tags in front of the ear or on different parts of the face following HFM surgery. Hearing problems can occur after surgery, depending on the structures involved. Some children experience weakness in movement on the affected side of the face after HFM surgery, too.
How to Prepare for
Hemifacial Microsomia Treatment
Viewing hemifacial microsomia before and after photos can help a patient prepare for their treatment. This allows a patient to see how surgery or another HFM treatment can be used to treat facial asymmetry and enhance the facial appearance.
Dr. Azizzadeh provides tips and recommendations in the days leading up to an HFM procedure. He offers detailed instructions, so his patient knows what to expect at all stages of treatment.
What to Expect After
Hemifacial Microsomia Treatment
Diagnostic testing is performed following hemifacial microsomia treatment. The testing allows a doctor or team of doctors to identify any post-treatment facial irregularities or health issues in their early stages.
Several doctors may be involved in evaluation of the results of HFM treatment. These include:
Otolaryngologist:

Monitors and treats any nose or throat problems.
Speech Therapist:

Helps a patient address any speech issues.
Dentist or Orthodontist:

Corrects crowding of the teeth and ensures a patient's jaw functions properly.
Ongoing evaluation of a patient is a must in the weeks and months after HFM treatment. With continuous monitoring, a patient can receive tips and guidance. As such, the patient is well-equipped to achieve the full results of treatment.
Are
Hemifacial Microsomia
Treatments
Safe and Effective
?
Research shows hemifacial microsomia treatment can help patients improve their facial appearance. Yet, treatment must be performed as early as possible. Otherwise, if HFM symptoms linger for an extended period of time, they can cause severe facial deformities.
Why Do Patients Choose Dr. Azizzadeh for
Hemifacial Microsomia Treatment
?
Dr. Azizzadeh understands the challenges associated with treating HFM. As such, he conducts an in-depth assessment of a patient and their HFM symptoms. If Dr. Azizzadeh believes a patient can benefit from HFM surgery, he does everything possible to ensure that his patient can undergo a successful treatment.
Meet with Dr. Azizzadeh to Explore HFM Treatment Options
Dr. Azizzadeh offers in-person and virtual consultations to patients who are exploring HFM treatment options. To learn more or to schedule a consultation with Dr. Azizzadeh, please contact us online or call us today at (310) 657-2203.