Acoustic neuroma is the most common type of brain tumor. It is non-cancerous and grows on a tiny nerve that is located near facial nerves between the inner ear and brainstem. An acoustic neuroma occurs on the eighth cranial nerve. It consists of three nerves that link the eardrum to the brain, including the cochlear nerve (carries hearing information) and left and right nerves (carry balance signals from the inner ear to the brain). Schwann cells (neurilemma cells) protect these nerves. However, an acoustic neuroma causes a tumor to grow on Schwann cells. And if the tumor persists, it will compress the brainstem. Thus, an acoustic neuroma can be life-threatening.
Acoustic neuromas are rarely inherited from a parent. However, an acoustic neuroma caused by neurofibromatosis type II (NF 2) is more common in young patients and those with a family history of neural tumors.
---
Acoustic Neuroma Association – What is an Acoustic Neuroma?
---
How Common Are Acoustic Neuromas?
The National Institutes of Health (NIH) has performed a variety of acoustic neuroma and acoustic neuroma facial paralysis studies, and some of their study findings include:
Acoustic neuromas comprise roughly 6 percent of all intracranial tumors, 30 percent of brainstem tumors and 85 percent of tumors in the cerebellopontine angle (CPA) region of the brain.
10 percent of acoustic neuromas are meningiomas (non-cancerous tumors that surround the brain and spinal cord).
Only about one out of every 100,000 acoustic neuromas are diagnosed annually in the United States.
Each year, there are roughly 2,000 to 3,000 new acoustic neuroma cases reported in the United States.
Among patients who suffer from hearing asymmetry, only about one in 1,000 is dealing with an acoustic neuroma.
The treatment approach to facial paralysis in this patient population depends on the intraoperative surgical findings. A conservative approach is prudent if the surgeon who performs the acoustic neuroma feels that the nerve was saved during the operation. Patients will often require eye care and temporary measures such as suture suspensions to prevent unwanted complications and improve oral issues. The risk of facial paralysis with acoustic neuroma surgery is between 4-15%. Tumor size, surgeon experience and approach for surgery are important factors.
---
Causes of Acoustic Neuroma
Most individuals diagnosed with an acoustic neuroma have no apparent risk factors. One confirmed environmental cause of the condition is exposure to high dose radiation, especially in the face or neck. Contrary to popular belief, cell phone use is not a contributor to the development of an acoustic neuroma. Acoustic neuromas may also be caused by continuous exposure to loud music or work-related noise.
A special group of individuals deserve consideration for acoustic neuroma. These are individuals with a rare genetic disorder called neurofibromatosis type 2 (NF2), which accounts for 5% of all cases of acoustic neuromas. NF2 is caused by a malfunctioning tumor suppressor gene on chromosome 22, leading to the growth of benign (noncancerous) tumors on the nerves that control balance in the inner ear. Although these tumors are benign, they can cause serious hearing and balance complications. NF2 can be familial and having a parent with the condition also increases your chances of developing an acoustic neuroma, because it is a dominant gene. In other words, you have a 50-50 chance of developing NF2 if one of your parents has been diagnosed with the condition.
---
Acoustic Neuroma & Facial Paralysis Symptoms
More than 95 percent of acoustic neuroma patients suffer hearing loss. In addition, roughly 90 percent of acoustic neuroma patients encounter a gradual, one-side hearing impairment. Among patients who suffer a hearing impairment due to acoustic neuroma, nearly two-thirds deal with a high-frequency sensorineural pattern. Meanwhile, the remainder frequently suffer from low-frequency hearing loss, i.e. a form of Meniere's disease.
In some instances, acoustic neuroma patients deal with "cookie bite" pattern, an indication of congenital hearing loss. Sudden hearing loss also occurs among 25 percent of acoustic neuroma patients but is rarely attributed directly to acoustic neuroma. Conversely, sudden hearing loss is attributed to an acoustic neuroma patient only about 1 percent to 5 percent of the time, as there are many causes of sudden hearing loss. Furthermore, hearing remains normal in about 11 percent of acoustic neuroma patients. Tinnitus (perception of noise ringing in the ears) also may be attributed to acoustic neuroma; it often is unilateral and confined to the affected ear.
Due in part to the origin of acoustics in the vestibular nerve, about 20 percent of acoustic neuroma patients will experience vertigo. In many cases, vertigo is more common in patients with smaller tumors than larger ones. Meanwhile, a lack of balance affects approximately 70 percent of acoustic neuroma patients who experience vertigo. Most of these patients will have large tumors. Loss of use of one or more of the arms and legs may occur but are unusual.
Acoustic neuroma facial paralysis may occur if a large tumor is present. In some situations, carbamazepine medication for neuralgia may enable a patient to limit acoustic neuroma facial nerve damage. An acoustic neuroma patient also may experience headaches if he or she is dealing with a large tumor.
If the nerve was cut intraoperatively or if the facial palsy does not resolve, then a more active approach must be taken. Definitive eyelid reconstruction with gold weight or palpebral spring must be considered. Facial reanimation as discussed in other sections of this web site must then be utilized. The following section is a more detailed discussion about acoustic neuroma.
---
Diagnosing Acoustic Neuroma
The diagnosis of acoustic neuroma usually involves a detailed physical examination to check your hearing and balance as well as the reflexes, strength, and sensation in your face and upper and lower extremities. Routine blood tests are generally not required to diagnose acoustic neuromas. In some cases, the auditory brainstem evoked response (ABR) is used as a screening test for acoustic neuroma. The definitive diagnostic imaging study for patients with suspected acoustic neuromas is gadolinium-enhanced magnetic resonance imaging (MRI) scanning. The procedure provides a highly detailed picture of the brain. The gadolinium, a type of contrast agent, is injected into a vein and is crucial in helping detect acoustic neuroma tumors as small as 1 to 2 mm in diameter. The scanning procedure is painless and takes about 30 minutes. Conversely, computerized tomography (CT) scanning with contrast can also be used to detect medium- to large-size acoustic neuroma tumors but fail to detect any tumors smaller than 1 to 1.5 cm in diameter. The study provides a three-dimensional (3D) picture of the brain and associated structures. It also is pain-free and takes almost 30 minutes to complete.
The procedures described will give your physician the best possible information regarding the type, position, and size of the acoustic neuroma tumor for the formulation of a highly personalized treatment plan.
---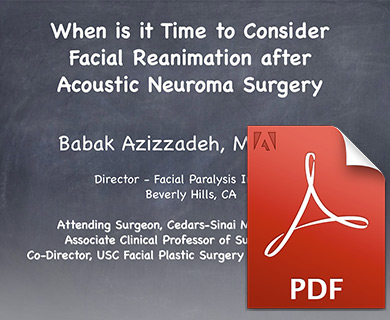 When is it time to consider facial reanimation after acoustic neuroma surgery?
View Dr. Azizzadeh's presentation for the Acoustic Neuroma Association on facial paralysis treatment options following acoustic neuroma surgery. Dr. Azizzadeh discusses all of the current facial reanimation treatment options, including the management of partial paralysis and synkinesis.
---
Treatment Options for Acoustic Neuroma
There are four distinct treatment options for an acoustic neuroma:
Medical treatment or taking a "wait and see" approach (conservative management)
Acoustic neuroma removal surgery
Gamma-knife radiosurgery
Cochlear implantation
Roughly 25 percent of acoustic neuromas are treated with medical management, which consists of:
Periodic monitoring of the patient's neurological status
Use of hearing aids when appropriate
Periodic imaging studies
Acoustic neuromas develop slowly, and there are no current medications that have been shown to limit acoustic neuroma growth. A patient may use serial audiometry and/or MRI scans to track an acoustic neuroma. After an acoustic neuroma is diagnosed, an MRI may be obtained at six months, followed by annual MRIs.
The threat of acoustic neuroma can decline based on an individual's age. For example, an older acoustic neuroma patient may continue to take his or her current medications. In this instance, the acoustic neuroma may be unlikely to impact the patient's expected lifespan.
Like any surgery, there are risks associated with an acoustic neuroma procedure. An MRI sometimes is unable to show how quickly an acoustic neuroma is growing, and the tumor could cause a patient to suffer hearing loss. If this happens, a patient may no longer be a viable candidate for a hearing preservation procedure.
A recent study indicated that roughly 10 percent to 43 percent of acoustic neuroma patients who were evaluated for about two years lost "useful" hearing. Typically, 75 percent of acoustic neuromas will display visible growth of approximately 1.5 mm over the course of one year. Keep in mind, however, that some acoustic neuromas will grow faster than others.
---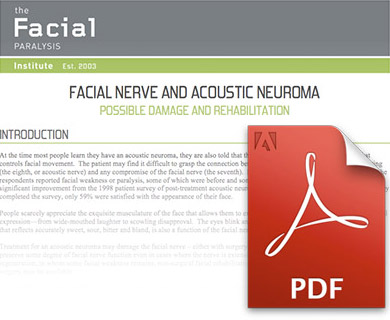 Possible Damage and Rehabilitation
For those diagnosed with an acoustic neuroma, there are many aspects of treatment. In this article, Dr. Azizzadeh discusses the nuances of treating an acoustic neuroma while preserving facial nerve function.
---
Acoustic Neuroma Surgery
Currently, about 50 percent of acoustic neuromas receive surgical treatment. Acoustic neuroma surgery often is a preferred choice for patients because it may prevent fatal complications associated with tumor growth and help an individual preserve his or hearing. The surgery usually is performed by a neurotologist (specialized otolaryngologist), neurosurgeon and other surgeons at an academic center.
There are several types of acoustic neuroma procedures:
Retrosigmoid/Suboccipital: Serves as a posterior approach that involves acoustic neuroma removal through the skull.
Translabyrinthine: Involves acoustic neuroma removal through the inner ear, commonly resulting in hearing loss.
Middle Fossa: Offers acoustic neuroma removal through the skull, improving a patient's chances of preserving his or her hearing.
Each acoustic neuroma surgery offers pros and cons, and an acoustic neuroma patient should assess each type of procedure closely. By doing so, an acoustic neuroma patient will be able to make an informed surgery decision based on his or her individual needs.
An acoustic neuroma patient will be admitted to the hospital the day before surgery and recover in a monitored hospital unit after surgery. In most cases, an acoustic neuroma patient will be discharged within four to six days of surgery and can return to work in approximately six weeks. Also, MRIs may be performed for one to five years after surgery to identify a residual or recurrent tumor, according to the American Hearing Research Foundation.
Conventional audiometry may be used as part of an acoustic neuroma treatment. It may lead to further testing, such as auditory brainstem response (ABR) testing and gadolinium enhanced MRIs.
MRIs usually offer more accurate results than ABR testing. Comparatively, ABR testing may prove to be a more cost-effective option than MRIs. A new technique, summated ABR, is now available and combines several ABRs over time. Summated ABR may provide a superior alternative to traditional ABR testing.
Electronystagmography (ENG testing) is rarely used to address acoustic neuroma, as nearly half of all tumors are linked to unilateral loss of calorics. ENG testing is not specific, and as such, may lead to inaccurate results. Also, rotatory chair testing is less sensitive than caloric testing, and posturography is insensitive to acoustic neuroma.
A gadolinium enhanced T1 MRI represents the ideal test for excluding an acoustic neuroma, but it can be more expensive than audiometry and ABR testing. This MRI can be used to enhance an acoustic neuroma and expand the internal auditory meatus for advanced evaluation.
On the other hand, a fast spin-echo T2 variant of MRI is sensitive to acoustics but may serve as a cost-effective option in clinical settings. Or, if an MRI cannot be completed, an air-CT scan may provide a valuable alternative. The air-CT scan is optimal for high-risk individuals, particularly if ABR testing indicates an acoustic neuroma may be present.
Acoustic neuromas are classified by their size and location. An acoustic neuroma may reach up to 4 cm in size, and the size classifications of acoustic neuromas are:
Intracanalicular: Measured in millimeters
Small: Less than 1.5 cm
Moderate: Ranges from 1.5 cm to 3 cm
Large: 3 cm or greater
An intracanalicular acoustic neuroma is located in the internal auditory canal (IAC). A cisternal tumor extends outside the IAC, while a compressive tumor touches the cerebellum or brainstem. And in some instances, tumors may obstruct cerebrospinal fluid drainage pathways in the fourth ventricle.
If you are suffering from facial paralysis or any other related condition, schedule a consultation with Dr. Azizzadeh by calling (310) 657-2203 today.
---
Are Acoustic Neuromas Fatal?
No, acoustic neuromas are not fatal, although they have the potential to drastically decrease the quality of life of patients before and after their removal. Recurrence is extremely uncommon after surgical removal of an acoustic neuroma. In a significant number of patients with ringing in the ears (tinnitus) before surgery, it is eliminated or improved after removal of the tumor. For small tumors (< 1.5 cm), there is a trend toward significant improvement in facial nerve function after surgical removal. Lastly, hearing preservation has increased substantially over the past decade or so, and there is reasonable stability of hearing over time after surgery.
---
Sponsorships
The Facial Paralysis Institute and Dr. Babak Azizzadeh are honored to be a Silver Sponsor for the Acoustic Neuroma Association. ANA aims to advance acoustic neuroma education and support, as well as increase overall acoustic neuroma awareness. Click here to learn more: https://www.anausa.org/
Why Should You Choose The Facial Paralysis Institute?
Acoustic neuroma facial paralysis affects patients in different ways, therefore it is very important to understand the type of facial paralysis in order to determine the best treatment option. Facial paralysis following acoustic neuroma removal can be mild to severe, and there is also a chance of developing synkinesis during recovery.
Treating an acoustic neuroma requires expert support. Fortunately, Dr. Azizzadeh of The Facial Paralysis Institute has the skills and experience to address acoustic neuroma facial paralysis. He works with acoustic neuroma facial paralysis patients to understand their symptoms. Dr. Azizzadeh then crafts a custom treatment plan designed to deliver long-lasting results.
Dr. Azizzadeh is a dual-certified and Harvard-trained facial plastic and reconstructive surgeon. He is globally recognized for his industry expertise and has performed many facial paralysis procedures over the years. Meanwhile, Dr. Azizzadeh constantly explores ways to help acoustic neuroma facial paralysis patients, too. He is committed to helping his patients in any way possible, and to accomplish his goal, explores innovative treatment options. That way, Dr. Azizzadeh ensures each of his acoustic neuroma facial paralysis patients can accomplish their treatment goals.
Schedule Your Acoustic Neuroma Consultation Today
Dr. Azizzadeh dedicates the necessary time and resources to evaluate acoustic neuroma facial paralysis patients. He then works with his patients to determine the best course of action to treat their acoustic neuroma facial paralysis symptoms. Dr. Azizzadeh even responds to a patient's acoustic neuroma facial paralysis concerns or questions to ensure this individual knows what to expect throughout treatment.
Dr. Azizzadeh is happy to meet with an individual and provide a personalized acoustic neuroma treatment recommendation. To schedule a consultation with Dr. Azizzadeh, please contact us today at (310) 657-2203.
Request your consultation with Dr. Azizzadeh today
Call us at (310) 657-2203 to schedule an appointment.
Schedule a Consultation