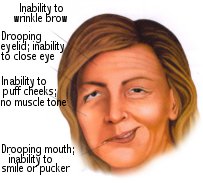 New Bell's Palsy Clinical Practice Guidelines
The medical journal Otolaryngology–Head and Neck Surgery recently published a new multidisciplinary clinical practice guideline for the diagnosis and treatment of Bell's palsy. The guideline was created collaboratively by a team of medical professionals ranging from neurologists to nurses. The intended audience for the new Bell's palsy clinical practice guideline is doctors who are likely to diagnose or treat a patient suffering from Bell's palsy. The guideline's purpose is to help improve the accuracy of the diagnosis of Bell's palsy and the quality of care that Bell's palsy patients receive. At The Facial Paralysis Institute in Beverly Hills, esteemed facial plastic and reconstructive surgeon Dr. Babak Azizzadeh is committed to thoughtfully creating a customized treatment plan to meet the needs of patients suffering from Bell's palsy.
What Is Bell's Palsy?
Bell's palsy is the leading cause of facial paralysis in America and the most common single nerve disorder. It is due to the facial nerve becoming swollen and damaged, causing the face to become paralyzed and distorted. Most patients who develop Bell's palsy will only have temporary facial paralysis and will make a full recovery, however, it is not certain how long the paralysis will last. Other patients will suffer from more severe partial or complete facial paralysis.
One of the main concerns addressed in the recently published clinical practice guideline for Bell's palsy is that not all facial paralysis can be linked to Bell's palsy. It is important that patients are properly diagnosed in a timely manner and other underlying issues are not ignored. Facial paralysis expert Dr. Azizzadeh works diligently to accurately diagnose those with Bell's palsy so that an effective treatment plan can be carried out.
Who Should Diagnose Bell's Palsy?
When exhibiting any sort of facial paralysis, patients should seek immediate medical attention. Preliminary tests are typically done to rule out other diseases or conditions such as Lyme disease, hepatitis, HIV, or thyroid disorder. It is imperative that the patient seek the expert opinion of an ENT (ear, nose, and throat) doctor or a facial nerve specialist, such as Dr. Azizzadeh. As an expert facial paralysis surgeon, Dr. Azizzadeh has the experience and credentials to determine whether or not a patient is suffering solely from Bell's palsy or if there is another underlying cause. Some doctors do not have much experience with facial nerve disorders and patients run the risk of being misdiagnosed or receiving a delayed diagnosis if they are not examined by a facial paralysis specialist.
How Is Bell's Palsy Treated?
Treatment for Bell's palsy depends on the severity of each case and the stage of the condition, which is why accurate diagnosis is extremely important. As soon as a Bell's palsy diagnosis is made, the patient needs to seek medical attention to be placed on antiviral and steroid medications. At The Facial Paralysis Institute in Beverly Hills, board-certified facial plastic and reconstructive surgeon Dr. Azizzadeh meets and evaluates each patient to determine which cutting-edge treatment plan is best suited to their individual needs. There are both surgical and non-surgical treatment options for Bell's palsy. Botox injections and neuromuscular retraining have been proven to be among the best treatments for Bell's palsy. Surgical options for cases in which the paralysis has only partially resolved can include a nerve transplant, muscle transplant, facelift, or selective neurolysis. Dr. Azizzadeh is a pioneer in the field of facial paralysis treatment and will give his trusted recommendation for how a patient should proceed with treating the devastating effects of Bell's palsy.
Schedule a Consultation for Bell's Palsy Treatment in Beverly Hills Today!
Seek the expert medical attention you need for the treatment of Bell's palsy by calling the Facial Paralysis Institute in Beverly Hills at (310) 657-2203 today!
---