Treatment Recommendations for Bell's Palsy by Top Experts
Developing Bell's palsy can be a frightening experience and many patients who were recently diagnosed are left with lingering questions; What type of doctor should I see? What can I do to treat Bell's palsy? How important is the timing when seeking Bell's palsy treatment? Facial Paralysis expert Dr. Babak Azizzadeh has compiled a list of recommendations for patients with a recent Bell's palsy diagnosis.
Bell's Palsy Onset:
Patient needs to see a doctor immediately upon noticing the facial paralysis and start on a course of steroid and antiviral medication. It's best to seek the help of a facial nerve expert, but if this is not possible, patients should see their ENT, Neurologist, or even go to the Emergency Room for help.
The doctor should rule out any serious cause of facial paralysis such as a tumor or stroke.
Patient should take extra care of the affected eye: tape it closed at night, use artificial tears and lubrication, and possibly see an ophthalmologist.
Bell's Palsy After 3 Months:
If the paralysis does not improve after 3 months of the onset, the patient should proceed with imaging (an MRI, or CT scan), ordered by their doctor.
If the patient's paralysis is starting to improve after 3 months, it is an appropriate time to start facial physical therapy.
It's important for patients to avoid electrical stimulation as this can often times cause synkinesis.
If the patient's paralysis is improving, but they notice signs of tension in their neck, over activity of their laugh lines, eye narrowing, and or trouble smiling, it could be time to start neuromuscular retraining. Neuromuscular retraining involves learning subtle exercises to teach the body how to use its muscles more efficiently.
The patient may benefit from Botox treatments to help relieve the symptoms of synkinesis. When considering Botox to treat facial paralysis, it's extremely important to seek the help of a facial nerve expert who is very experienced with this treatment.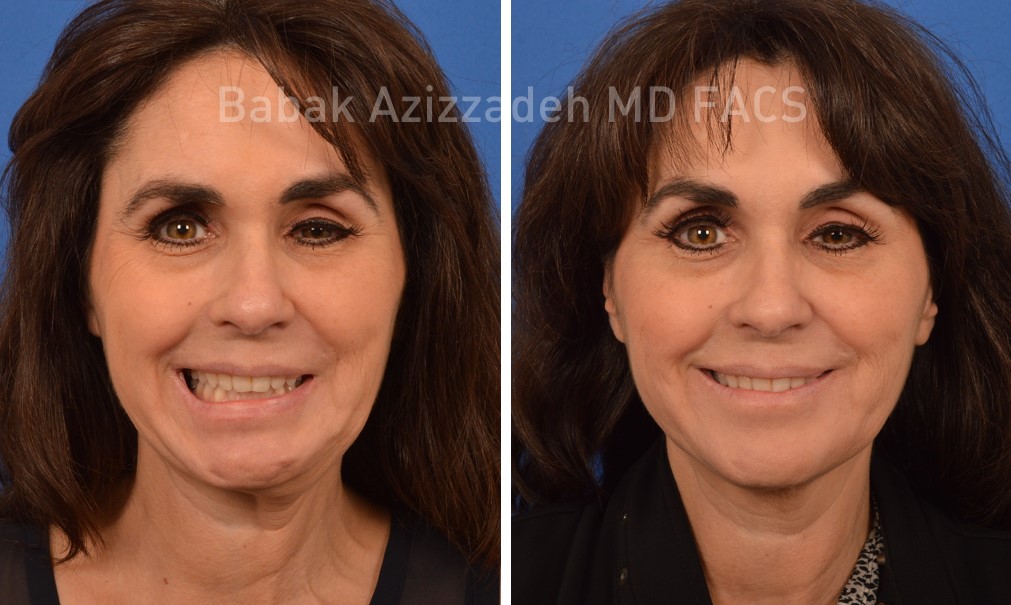 Bell's Palsy After 1 Year:
If the patient has explored the options above, and still has residual symptoms of facial paralysis after a year of their Bell's palsy diagnosis, it could be time to explore surgical options.
Patient needs to see a facial nerve expert like Dr. Azizzadeh who can review their medical history, do a comprehensive physical exam, and make recommendations about what surgical procedure will be most beneficial.
Often times, the best outcomes for patient who still have partial paralysis are a result of a multi-dimensional approach involving surgery like selective neurolysis, with regular botox treatments and physical therapy.
Meet the Facial Nerve Expert
Dr. Babak Azizzadeh is a world renowned facial nerve expert who specializes in treating patients with various forms of facial paralysis. He is a pioneer and leader in the facial nerve world and is highly regarded for his work with both adults and children. Dr. Azizzadeh is double board certified in otolaryngology and facial plastic surgery which gives him a unique insight into both the aesthetic and function of the facial nerve. After completing his specialized training at Harvard Medical School, Dr. Azizzadeh founded the Facial Paralysis Institute. He is also the founder and director of the Facial Paralysis Foundation, a group which offers information and support for patients and loved ones affected by facial paralysis. Dr. Azizzadeh has been featured in various media outlets including The Doctors, The LA Times, The NY Times, and the Oprah Winfrey Show. He has written 6 best-selling medical textbooks including the widely recognized The Facial Nerve. Dr. Azizzadeh is deeply committed to helping people from across the globe regain their facial function and smile, making him one of the most sought after surgeons in the world.
Contact the Facial Paralysis Institute
If you or a loved one has been diagnosed with Bell's palsy, call the Facial Paralysis Institute to schedule a consultation with facial nerve expert Dr. Babak Azizzadeh today! (310) 657-2203
---