Bell's palsy results in immediate facial paralysis that usually affects one side of the face. The paralysis may cause an individual to experience drooping on one side of the face and impact a person's sense of taste.
Read more
---
Waking up with one side of your face drooping and numb can be very scary. It is important to go to the emergency room or your primary care physician to have a comprehensive physical examination focusing on neurological, ear and head &neck region. An MRI and/or CT scan may be necessary to help figure out the reason for the paralysis right away. If no specific cause is discovered, there is a good chance you have Bell's Palsy and your doctor should prescribe anti-viral and steroid medications.
Read more
---
Lagophthalmos is a medical condition that can make it difficult to fully close the eyes. If left unaddressed, lagophthalmos can leave the eyes vulnerable to serious damage. Or, the condition may indicate that other eye problems are present.  Lagophthalmos Definition Lagophthalmos is commonly associated with incomplete eye closure when blinking or sleeping. The condition can […]
Read more
---
Bell's palsy is a medical condition that causes paralysis or weakness on one side of the face. It is the most common form of facial paralysis during pregnancy. Getting Bell's palsy while pregnant can be stressful. Bell's palsy can affect a pregnant woman and her unborn child and must be treated properly. Fortunately, treatment options […]
Read more
---
Congenital facial nerve paralysis can affect a child starting at birth, and its impact can be significant. Kids can experience physical side effects due to congenital facial nerve palsy, along with emotional issues that can affect their self-confidence and ability to connect with others. For children who display symptoms of congenital facial paralysis, immediate diagnosis […]
Read more
---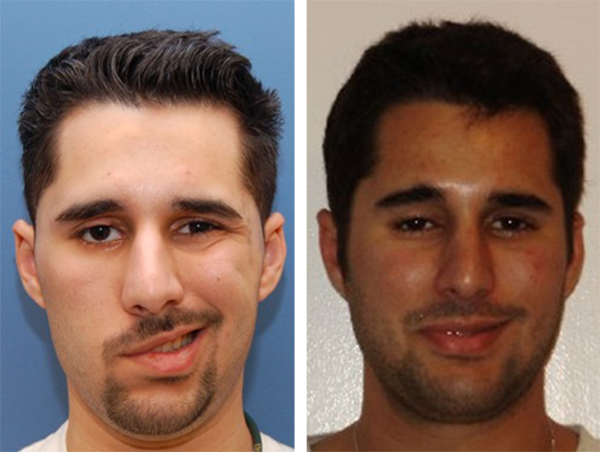 Losing movement in the facial muscles can be completely devastating for a person. Not only does this present a physical distress as the person can lose the ability to smile, frown, or make any complete facial movements, but it also takes a toll on a person's mental state. Though they occur for different reasons, both facial paralysis and Bell's Palsy bring permanent or temporary facial paralysis to its sufferers and should always be treated by an experienced surgeon.
Read more
---
Laser acupuncture is commonly viewed as a pain-free alternative to traditional acupuncture. It can help patients dealing with a variety of medical conditions, including facial paralysis and Bell's palsy. At The Facial Paralysis Institute, Dr. Babak Azizzadeh is committed to exploring revolutionary treatment options to help patients mitigate the effects of facial paralysis. Dr. Azizzadeh […]
Read more
---
Bell's palsy and stroke are medical conditions commonly associated with facial paralysis. However, Bell's palsy and stroke are not identical, and proper diagnosis is key to ensure safe, effective treatment of either condition. To better understand the differences between Bell's palsy and stroke, let's examine both conditions in detail.   The Difference Between Bell's Palsy and […]
Read more
---

Ramsay Hunt Syndrome is a condition that affects the facial nerve and associated structures, which can lead to hearing loss, a blister-like rash, and facial paralysis.
Read more
---
Facial Paralysis can be devastating for people of any age, but especially for young children. Moebius syndrome is a rare congenital disorder that causes facial paralysis that can be apparent as early as birth.
Read more
---
Coronavirus (COVID-19) vaccine distribution is underway. Yet, as COVID-19 vaccine distribution continues, medical professionals will watch closely to determine the vaccine's efficacy and safety in real world settings. Clinical trials were used to evaluate the vaccine's effectiveness in mitigating COVID-19 symptoms. However, there may be issues that crop up as the vaccine becomes generally available […]
Read more
---
Uncommon Causes of Facial Paralysis In rare instances, facial paralysis may occur due to any of the following reasons: 1. Lyme Disease According to UT Southwestern Medical Center, roughly 11% of patients diagnosed with Lyme disease experience facial paralysis symptoms. Additionally, in a study published in Canadian Family Physician, researchers found that idiopathic Bell's palsy […]
Read more
---
Bell's Palsy vs. Stroke: What You Need to Know Facial paralysis may be related to Bell's palsy or a stroke. But, it is important to note that Bell's palsy and stroke are different, and each medical condition must be diagnosed and treated accordingly. Share this Image On Your Site Please include attribution to https://www.facialparalysisinstitute.com/ with […]
Read more
---
Immediate diagnosis and treatment of facial nerve weakness and hearing loss is crucial. By meeting with a doctor, a patient can undergo an evaluation to find out if these symptoms are related to Bell's palsy and treat them accordingly. What Is the Link Between Bell's Palsy and Hearing Loss? Bell's palsy affects the seventh cranial […]
Read more
---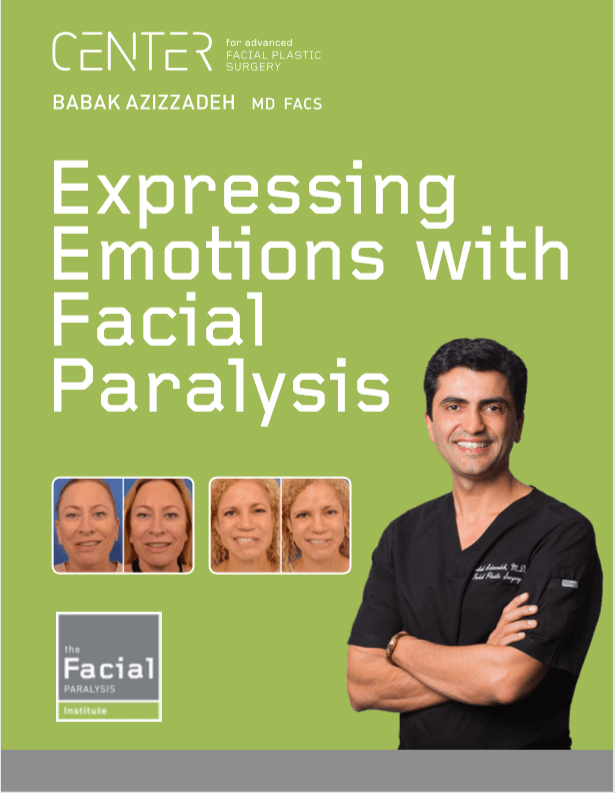 A facial expression makes it easy to show happiness, sadness, and other emotions. Yet, for people coping with facial paralysis, it can be virtually impossible to use facial expressions to show how they are feeling.
Read more
---
How Can Lyme Disease Cause Facial Paralysis There is a direct correlation between Lyme disease and facial paralysis, and people coping with Lyme disease can experience Bell's palsy and other forms of facial paralysis. But, with proper diagnosis and treatment of Lyme disease and facial paralysis, patients can safely and effectively address both conditions at […]
Read more
---
Selective neurolysis, also referred to as modified selective neurectomy, is the first permanent facial paralysis treatment. It is performed exclusively by globally recognized facial plastic and reconstructive surgeon Dr. Babak Azizzadeh. What Makes Selective Neurolysis Unique? During selective neurolysis, Dr. Azizzadeh corrects "mis-wiring" of the facial nerve that can otherwise hamper a facial paralysis patient's […]
Read more
---
What to Expect from Physical Therapy During Synkinesis Treatment Synkinesis refers to simultaneous facial movement that happens after a patient experiences Bell's palsy. Or, synkinesis can occur after a patient undergoes a surgical procedure in which the facial nerve was previously cut and reconnected. In this instance, facial nerve wires can be linked to the […]
Read more
---
Hemifacial Spasms Explained A hemifacial spasm is a nervous system disorder that causes involuntary twitching in one side of the face. People who experience hemifacial spasms can undergo a physical exam, magnetic resonance imaging (MRI) scan, and other tests to diagnose their condition. To address hemifacial spasms, patients can receive Botox injections or undergo surgery. […]
Read more
---
Uncommon Causes of Facial Paralysis Diagnosing and treating facial paralysis can be challenging. If facial paralysis causes cannot be identified, a patient's facial appearance and self-confidence can be severely affected. Dr. Babak Azizzadeh of The Facial Paralysis Institute is a Harvard-trained facial plastic and reconstructive surgeon with many years of experience. He understands both common […]
Read more
---
What Are the Symptoms of Moebius Syndrome? Moebius syndrome is generally characterized by paralysis or weakness of multiple facial nerves. The National Organization for Rare Disorders (NORD) indicates the condition most often affects the sixth and seventh facial nerves, but other nerves can also be impacted. In Moebius syndrome instances where the sixth cranial nerve […]
Read more
---
Facial Nerve Recovery After Parotidectomy A parotidectomy is a surgical procedure used to remove a parotid gland tumor. Typically, a tumor makes an affected parotid gland appear larger than ever before. A parotid gland tumor also generally appears on a single gland as a growth on the jawbone. At the first sign of a parotid […]
Read more
---
Facial paralysis may affect the taste buds, sensory organs found around the tongue that let people experience sweet, savory and other flavors. To understand the link between facial paralysis and taste, let's examine the results of a recent study on the topic. In a study published in the Journal of Audiology & Otology in April […]
Read more
---
Request your consultation with Dr. Azizzadeh today
Call us at (310) 657-2203 to schedule an appointment.
Schedule a Consultation