Philosophy of The Facial Paralysis Institute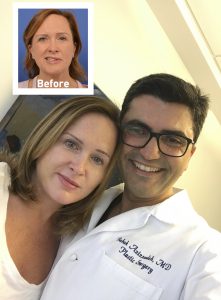 Having facial paralysis or Bell's palsy is one of the most challenging experiences an individual can go through.  With a patient centered approach, the Facial Paralysis Institute's mission is to help you or your loved one regain self-confidence and improve quality of life. With a multidisciplinary care approach, our goal is always to create the most natural smile possible through innovative non-invasive and surgical approaches. We deeply care about our patients and their ability to live life to the fullest. We look forward to taking care of you!
The most important treatment objective for individuals with facial paralysis is the prevention of unwanted eye complications, reconstruction of facial movement, restoration of a dynamic smile, and improvement of facial aesthetics with a patient centered approach.
At the Facial Paralysis Institute, Dr. Azizzadeh and his team of facial plastic surgeons, otolaryngologists, neuro-otologists, neurosurgeons, head & neck surgeons, ophthalmologists and physical therapists utilize a systematic approach to reach these objectives. Each patient will be initially consulted by Dr. Azizzadeh who will then utilize different members of the team to obtain the best possible outcome. A true multidisciplinary approach is necessary in facial palsy treatment.
Take a Look at Our Patients' Life Changing Results After Surgery with Dr. Azizzadeh
If you are suffering from facial paralysis or any other related condition, take a step towards a patient centered approach by scheduling a consultation with Beverly Hills facial paralysis expert Dr. Azizzadeh by calling (310) 657-2203 today!