Permanently Treating Facial Paralysis, Bell's Palsy and Synkinesis with Modified Selective Neurectomy

Modified selective neurectomy, also known as selective neurolysis, is a groundbreaking smile reanimation procedure created by globally recognized and Harvard-trained facial paralysis and reconstructive surgeon Dr. Babak Azizzadeh. It is a permanent treatment option that has already helped many patients improve their quality of life and non-verbal communication capabilities by creating a natural, spontaneous smile.
This guide offers insights into selective neurectomy, how the procedure is performed and its benefits. By doing so, the guide can help individuals determine whether selective neurolysis is the right treatment to achieve their smile reanimation goals.
Selective Neurolysis Treatment
Selective neurolysis is a cutting-edge surgical treatment that allows patients to restore the components of a natural smile. The surgical results help individuals achieve a spontaneous and emotional dynamic smile, along with significantly reduced facial synkinesis.
Pioneered by Dr. Azizzadeh, selective neurolysis addresses the abnormal regeneration of the facial nerves. He focuses on correcting this "mis-wiring" of the facial nerves, leading to unprecedented facial reanimation results.
How Can Selective Neurectomy Help Create a Natural Smile?
Facial paralysis, synkinesis, Bell's palsy, Ramsay Hunt Syndrome and acoustic neuroma surgery can all inhibit a patient's ability to create a natural smile. For these patients, the smile may appear to be pulled down and asymmetric. To correct this problem, patients need to address the facial muscles that are counterproductive.
During selective neurectomy, Dr. Azizzadeh identifies all of the facial nerve branches that connect to the different smile muscles. Dr. Azizzadeh ensures that all of the appropriate facial nerve branches are preserved and reduces the activity of the nerves that activate the unwanted facial muscles that are negatively impacting the smile. This unique approach allows Dr. Azizzadeh to treat the core of the problem and help patients achieve a natural smile that features overall symmetry in the laugh lines, teeth show (both upper and lower) and movement in an upward direction.
What Are the Benefits of Selective Neurectomy?>
Few facial reanimation techniques can match the benefits provided by selective neurectomy. The primary benefits associated with selective neurolysis are:
Improved smile symmetry
Enhanced facial symmetry
Increased facial muscle coordination
Reduced functional tightness
Dr. Azizzadeh is committed to helping patients restore a dynamic smile. With selective neurolysis, Dr. Azizzadeh provides a facial reanimation procedure that does just that.
Who Are the Ideal Candidates for Selective Neurectomy?
The ideal candidates for selective neurectomy are individuals who are dealing with facial paralysis, synkinesis, or have not fully recovered from Bell's palsy. Additionally patients with Ramsay Hunt Syndrome or those experiencing facial paralysis after acoustic neuroma may be candidates for selective neurectomy. Unlike many treatments, selective neurolysis addresses the root cause of why an individual cannot create a natural smile and provides an effective long-term treatment that enhances a patient's smile capabilities.
How Can Selective Neurectomy Help Facial Paralysis Patients?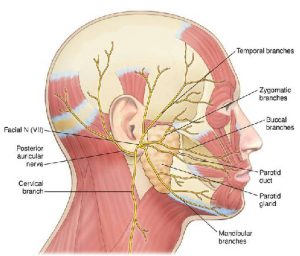 For facial paralysis patients, selective neurectomy enables Dr. Azizzadeh to assess the facial nerve, which exits the stylomastoid foramen and enters the core of the parotid gland.
The facial nerve bifurcates into an upper and lower division within the parotid gland and divides into five main branches:
Frontal
Zygomatic
Buccal
Marginal mandibular
Platysmal
Selective neurolysis involves meticulously mapping out the facial nerves with intraoperative electromyography (EMG) and decreasing the activity of the nerves that are counterproductive to the smile mechanism. Dr. Azizzadeh also releases the platysma muscle that pulls the corner of the mouth down, allowing for spontaneous reanimation of the face and a natural-looking smile. Dr. Azizzadeh designed the selective neurolysis procedure to be minimally invasive in order to reduce a patient's downtime and risks in comparison to other facial nerve surgeries.
Selective Neurolysis Is The First Permanent Treatment For Bell's Palsy Patients
Bell's palsy is one of the primary causes of facial paralysis in the United States. It is a type of temporary facial paralysis. The National Institute of Neurological Disorders and Stroke (NIH) indicates Bell's palsy affects 40,000 Americans each year.
Bell's palsy disrupts the function of the facial nerve. This interferes with the communication that generally takes place between the brain and facial muscles, resulting in facial weakness or paralysis. In approximately 85% of cases, Bell's palsy will disappear on its own, and an individual will regain full facial movement. However, in roughly 10% of cases the patients will experience synkinesis and in 5% of cases the patients will have permanent facial paralysis. If a Bell's palsy patient does not recover completely within eight to twelve months or is experiencing synkinesis, they should be evaluated to see if they are a candidate for selective neurolysis.
Immediately after a patient experiences sudden facial paralysis, they need to go to the emergency room for a diagnosis of Bell's palsy. Typical evaluations include laboratory testing for Lyme disease, a thyroid function test and HIV and hepatitis assessments. Also, a complete neurologic and ear, nose and throat evaluation may need to be done. If additional testing is required, an ENT specialist or facial nerve specialist may need to be consulted. In some instances, a tearing function test, computed tomography (CT) scan, magnetic resonance imaging (MRI) exam and electromyography or electroneurography (ENoG) may be performed to identify the root causes of facial paralysis. It is very important to rule out any other causes of facial paralysis, including a brain tumor.
While it is difficult, patients need to be patient during the recovery process. Treatment with Dr. Azizzadeh cannot begin until approximately one year after the onset of Bell's palsy once it has been determined that the paralysis or synkinesis is permanent. Selective neurolysis is the most advanced treatment available for individuals who do not recover from Bell's palsy. It helps reduce nerve activity in the facial nerves that counteract the smile mechanism. As a result, it enables a Bell's palsy patient to regain the ability to smile.
Selective Neurolysis For Synkinesis Patients
Facial synkinesis is defined as "simultaneous movement" that takes place after an individual suffers from Bell's palsy or the facial nerve has been cut and sewn back together. It causes abnormal synchronization of facial movement. When this occurs, it may lead to involuntary facial movement of different facial muscle groups.
For patients who have regained their facial tone, synkinesis may cause the corner the mouth to pull upward. Or, the synkinetic (simultaneous) movement of muscles may cause the corner of a patient's mouth (depressor anguli oris, platysma and mentalis muscles) to droop and elevate nearby muscles (zygomaticus major and minor). In both scenarios, it may be difficult for a synkinesis patient to display an appropriate smile.
Although synkinesis cannot be prevented, selective neurolysis is the first effective treatment with permanent results. During a selective neurectomy procedure, Dr. Azizzadeh meticulously maps out the facial nerves and selectively reduces the activity of the facial nerve branches that are hindering the patient's smile, as well as releases the platysma muscle that is pulling the mouth downward. The result is a much more symmetrical and natural smile.
Selective Neurolysis For Ramsay Hunt Syndrome Patients
Ramsay Hunt syndrome may cause synkinesis and permanent facial paralysis. As such, Ramsay Hunt syndrome patients are often viable candidates for selective neurolysis.
Selective Neurolysis For Acoustic Neuroma Patients
Acoustic neuroma patients sometimes experience synkinesis. Therefore, Dr. Azizzadeh may recommend selective neurolysis for acoustic neuroma patients.
How Is Selective Neurolysis Performed?
A selective neurolysis procedure is performed at an outpatient treatment center. The downtime and risks associated with selective neurolysis are minimal in comparison to other facial nerve procedures. Furthermore, selective neurolysis treatment results generally can be seen the day after a surgery is completed.
Selective neurolysis is a complex surgical procedure and requires precision and attention to detail. As the pioneer of the selective neurolysis procedure, Dr. Azizzadeh will perform an extensive patient consultation prior to treatment to determine if the patient is an appropriate candidate. Then, Dr. Azizzadeh can provide a customized treatment plan tailored to a patient's needs.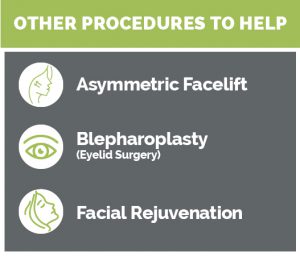 Sometimes, Dr. Azizzadeh may recommend selective neurectomy be performed in conjunction with other procedures to help a patient achieve the optimal results. Procedures that may be completed in combination with selective neurolysis include:
Asymmetric Facelift: Helps a patient address facial asymmetry, leading to a more balanced and natural-looking facial appearance.
Blepharoplasty (Eyelid Surgery):Enables a patient to address the appearance of droopy eyelids and may require the removal of excess fat, muscle and skin.
Facial Rejuvenation: Allows a patient to revitalize the facial appearance; facelift and neck lift treatments are two of the most common facial rejuvenation procedures that may be performed at the same time as selective neurolysis.
Dr. Azizzadeh customizes the selective neurolysis procedure to the specific needs of a patient so they get the best smile possible after surgery.
What to Expect During a Selective Neurolysis Consultation
Dr. Azizzadeh is board-certified by the American Board of Facial Plastic & Reconstructive Surgery and the American Board of Otolaryngology-Head & Neck Surgery. He possesses unparalleled expertise in facial nerve disorders and understands there is no one-size-fits-all treatment for all patients.
Selective neurolysis provides life-changing facial reanimation results. To help an individual evaluate selective neurolysis and other facial reanimation treatments, Dr. Azizzadeh will request a patient consultation.
Dr. Azizzadeh uses a patient consultation to learn about a patient and to evaluate the facial movement and facial muscles. The consultation also gives a patient the opportunity to ask questions and learn about Dr. Azizzadeh's distinct approach to nerve disorders and treatments.
If Dr. Azizzadeh determines an individual is a candidate for selective neurolysis, he will outline all aspects of the surgery and recovery. Dr. Azizzadeh is happy to educate a patient about selective neurectomy and help this individual make an informed treatment decision.
What to Expect After Selective Neurolysis Surgery
The potential side effects and recovery period associated with selective neurectomy are limited in comparison to other facial reanimation procedures. Oftentimes, patients will notice improvements in their ability to generate a natural smile in the first few days after surgery, and the final results will become apparent in the months to follow.
Dr. Azizzadeh may recommend neuromuscular retraining (NMR) after selective neurolysis surgery. NMR involves the use of subtle yet critically important exercises that help teach and retrain the brain to coordinate facial muscle movements. A physical therapist will teach a patient the proper exercises and how to perform them, as well as provide personalized sessions based on a patient's facial movement needs.
Periorbital and contralateral Botox may be recommended following selective neurectomy surgery as well. Botox has been a top choice for treatment of Bell's palsy, partial facial paralysis and synkinesis for more than 20 years. It consists of a protein derived from the botulinum toxin and helps relax unwanted muscle movements and reduce tension in areas of the face that are hyperactive.
Facial Reanimation Surgery: A Real World Example
Mary Jo Buttafuoco took a bullet to the head when she was 37 years old. The gunshot caused her to lose hearing in her right ear and paralyzed the right side of her face. It also made it virtually impossible for Buttafuoco to smile.
Buttafuoco sought help from Dr. Azizzadeh in 2005. At that point, Buttafuoco was self-conscious about her looks and had lost much of her self-confidence. Fortunately, Dr. Azizzadeh was able to use advanced facial reanimation techniques to provide Buttafuoco with the support that she needed.
In 2005, Dr. Azizzadeh completed a static facial suspension, facelift and eye lift procedures to help restore function and aesthetic to Buttafuoco's face. In 2017, with the innovation of his selective neurolysis procedure, Dr. Azizzadeh was able to improve Mary Jo's smile even more.  For the first time since her traumatic event, Mary Jo can see all of her teeth when she smiles and has more self-confidence than ever before; she even wants to take selfies!
Buttafuoco is one of hundreds of patients that Dr. Azizzadeh has helped over the years. Dr. Azizzadeh takes a holistic approach to facial reanimation surgery and other procedures to ensure patients can overcome the effects of facial paralysis.
Conclusion
There is no shortage of facial reanimation procedures available to individuals across the globe. Yet selective neurolysis is a state-of-the-art facial reanimation treatment that helps patients permanently restore a dynamic and natural-looking smile.
Developed by world-renowned facial plastic and reconstructive surgeon and facial nerve expert Dr. Azizzadeh, selective neurolysis is transforming the way that Bell's palsy, facial paralysis and synkinesis symptoms are treated. Selective neurectomy is an intricate operation that allows Dr. Azizzadeh to find the root cause of why an individual cannot create a natural, spontaneous smile.
Dr. Azizzadeh is available to teach individuals about selective neurolysis, and ultimately, help them address the root causes of Bell's palsy, facial paralysis and synkinesis. To learn more about selective neurectomy, please call us at (310) 657-2203 to schedule a consultation with Dr. Azizzadeh.
---
Request your consultation with Dr. Azizzadeh today
Call us at (310) 657-2203 to schedule an appointment.
Schedule a Consultation