A recent study published by JAMA sheds light on an extremely important issue among the facial paralysis community; depression. It's no surprise that the challenges presented by facial paralysis are not limited to physical difficulties.
Read more
---
Jane is a patient who developed facial paralysis after having surgery to remove an acoustic neuroma in 2010. Her operating surgeon told her that she needed to be patient and she would eventually get movement back.
Read more
---
Selective neurolysis is a cutting-edge operation for partial facial paralysis or synkinesis patients. It is used to help patients who cannot generate an appropriate smile.
Read more
---
Whether it's something that you are born with or develop suddenly, facial paralysis can be devastating. Aside from the physical ramifications of not being able to move certain facial muscles naturally, there are emotional side effects that can be just as challenging to overcome.
Read more
---
Facial Paralysis comes in many forms and can be caused by a variety of different factors. According to a recent article in Washington's Top News, researchers are now linking the Zika Virus to a recent upsurge in Guillain-Barre, a condition that causes paralysis of the body and face.
Read more
---
Nerve transplants are one of the many cutting-edge procedures performed at the Facial Paralysis Institute in Beverly Hills. They provide hope for patients who have suffered from long-term facial paralysis and do not know of any methods that can help them regain facial movement. During your comprehensive consultation with Dr. Azizzadeh, he'll assess your facial paralysis with meticulous care and utilize his team of specialists.
Read more
---
Recently, there has been more of a focus on Lyme disease in the media. Celebrities like Avril Lavigne and Yolanda Foster have come forward to share their struggles and spread awareness about this debilitating condition.
Read more
---
Congenital facial paralysis is used to describe facial palsy that is present in children at birth. It is a rare form of facial paralysis that only affects a small number of children. Congenital facial paralysis, also known as developmental paralysis, makes it difficult for children to express emotion, close their eyes, nurse, and can be coupled with other disorders or deformities. If left untreated, congenital facial paralysis
Read more
---
In 2008, world-renowned facial plastic and reconstructive surgeon Dr. Babak Azizzadeh founded the Facial Paralysis & Bell's Palsy Foundation.
Read more
---
Leslie Barrett was diagnosed with Bell's palsy over two months ago, but that didn't stop this young woman from having a little fun at Halloween. Inspired by Olympic gymnast McKayla Maroney's infamous "not impressed" face, Leslie used her frozen facial expression caused by Bell's palsy to imitate Maroney and dress as her for Halloween. Leslie's costume was a big hit at the Halloween party she attended and became an online viral sensation when she posted the picture directly to McKalya Maroney's Facebook page. On Facebook, Leslie stated that the costume gave her an opportunity to help her deal with the slow recovery from Bell's palsy she has faced the last few months.
Read more
---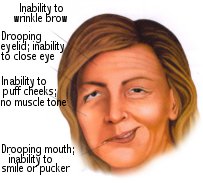 The medical journal Otolaryngology–Head and Neck Surgery recently published a new multidisciplinary clinical practice guideline for the diagnosis and treatment of Bell's palsy.
Read more
---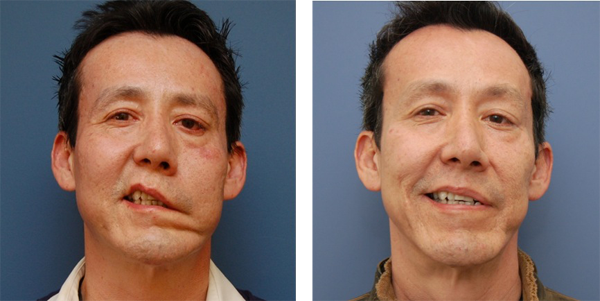 Acoustic neuromas are the most common type of non-cancerous brain tumor. Although they are not cancerous tumors, they commonly cause a multitude of other medical problems. Any patient with an acoustic neuroma should seek medical treatment from an expert right away.
Read more
---

Synkinesis is a condition that occurs as a result of abnormal facial nerve regeneration after facial nerve injury or Bell's palsy. Meaning "simultaneous movement," synkinesis results when facial nerve fibers reattach to the wrong nerve
Read more
---
Treating facial paralysis can be a complex, difficult, and trying process. Depending on the individual facial paralysis patient, the recommended treatment may be different, but the process of regaining facial animation almost always involves some physical therapy. Here at the Facial Paralysis Institute, we can guide you through every step of the process including physical therapy through customized therapy sessions. Dr. Azizzadeh and his team of experts have helped countless patients regain facial muscle movement through physical therapy.
Read more
---
Bell's palsy is a condition that can be quite alarming at the onset. Immediate complete facial paralysis is the first sign, and it comes on suddenly. With symptoms often mimicking those of a stroke, patients need to seek medical attention right away to rule out other more serious conditions.
Read more
---
Ramsay Hunt Syndrome is a condition brought on by the reactivation of the same virus that causes the chicken pox. When this virus is reactivated, it affects the facial nerve, often causing hearing loss, a blister-like rash, and temporary facial paralysis. Babak Azizzadeh, MD, FACS, and Director of the Facial Paralysis Institute is world-renowned for his cutting-edge treatment of temporary and permanent facial paralysis.
Read more
---
A Bell's palsy diagnosis can be scary and overwhelming if you don't know where to turn for help. Babak Azizzadeh, MD, FACS is the Director of the Facial Paralysis Institute and is known for his innovative treatment of Bell's palsy and facial paralysis. He is here to help you understand the condition as well as explain the best Bell's palsy treatment available.
Read more
---
When we think of facial paralysis and Bell's palsy, we mostly think of how ones appearance changes with a noticeable droop to one side. However, one of the most common affects of facial paralysis that most don't realize could affect them is the ability to completely close their eyelid on the affected side.
Read more
---
Did you know that Botox is one of the most effective treatments for individuals suffering from partial facial paralysis, synkinesis, and Bell's palsy? In this blog, world-renowned facial paralysis surgeon Babak Azizzadeh, MD, FACS, explains how Botox is used to help give patients suffering from facial palsy a more balanced appearance.
Read more
---
One of the most rewarding aspects of being able to treat individuals coping with permanent Bell's palsy and facial paralysis is Dr. Azizzadeh's ability to give them hope that hasn't been felt in quite some time. In this blog, Dr. Azizzadeh profiles a recent patient who underwent the first of two surgeries at the Facial Paralysis Institute in Beverly Hills.
Read more
---
World-renowned facial paralysis and Bell's palsy surgeon Babak Azizzadeh, MD, FACS, shares expert opinion onNancy Pelosi's possible condition.
Read more
---
At the Facial Paralysis Institute in Los Angeles, world-renowned facial paralysis surgeon Babak Azizzadeh, MD, FACS, strives to stay on the cutting-edge of all new techniques and methods researched for the improvement of facial paralysis and Bell's palsy treatments. In this blog, Dr. Azizzadeh takes a few moments to let his patients know about a new study surrounding Bell's palsy, and how earlier physical therapy programs could help facial function return sooner.
Read more
---
In a recent study published in the Laryngoscope online medical library, research surrounding the negative view that society has toward people suffering from both facial paralysis and Bell's palsy has been made public.
Read more
---
Request your consultation with Dr. Azizzadeh today
Call us at (310) 657-2203 to schedule an appointment.
Schedule a Consultation