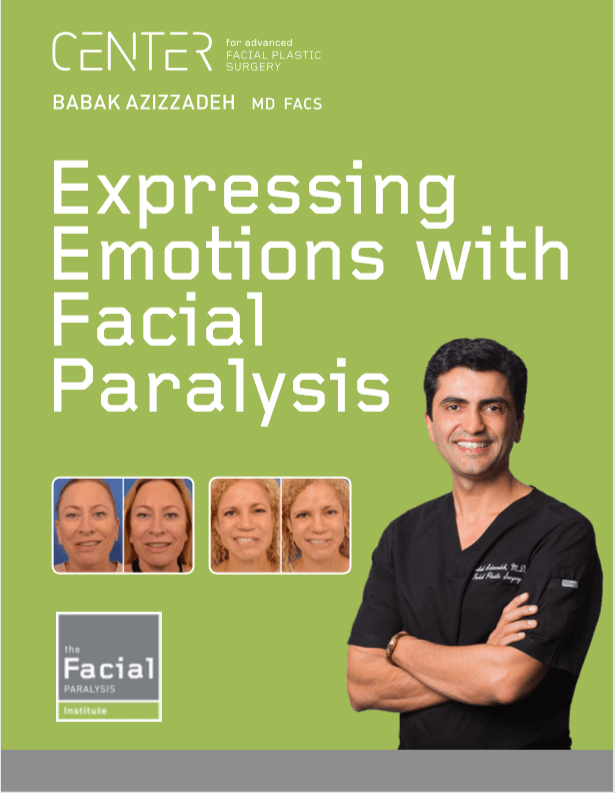 A facial expression makes it easy to show happiness, sadness, and other emotions. Yet, for people coping with facial paralysis, it can be virtually impossible to use facial expressions to show how they are feeling.
Read more
---
How Can Lyme Disease Cause Facial Paralysis There is a direct correlation between Lyme disease and facial paralysis, and people coping with Lyme disease can experience Bell's palsy and other forms of facial paralysis. But, with proper diagnosis and treatment of Lyme disease and facial paralysis, patients can safely and effectively address both conditions at […]
Read more
---
Selective neurolysis is a groundbreaking smile reanimation surgery pioneered by Dr. Babak Azizzadeh, a globally recognized facial plastic and reconstructive surgeon. What Makes Selective Neurolysis Different from Other Smile Reanimation Surgeries? Selective neurolysis is the first permanent treatment for individuals who do not recover from Bell's palsy, Ramsay Hunt syndrome and other forms of facial […]
Read more
---
How Congenital Facial Paralysis Can Affect Children Congenital facial paralysis can affect a child starting at birth, and its impact can be significant. Kids can experience physical side effects due to congenital facial paralysis, along with emotional issues that can affect their self-confidence and ability to connect with others. For children who display symptoms of […]
Read more
---
What to Expect from Physical Therapy During Synkinesis Treatment Synkinesis refers to simultaneous facial movement that happens after a patient experiences Bell's palsy. Or, synkinesis can occur after a patient undergoes a surgical procedure in which the facial nerve was previously cut and reconnected. In this instance, facial nerve wires can be linked to the […]
Read more
---
Hemifacial Spasms Explained A hemifacial spasm is a nervous system disorder that causes involuntary twitching in one side of the face. People who experience hemifacial spasms can undergo a physical exam, magnetic resonance imaging (MRI) scan, and other tests to diagnose their condition. To address hemifacial spasms, patients can receive Botox injections or undergo surgery. […]
Read more
---
Uncommon Causes of Facial Paralysis Diagnosing and treating facial paralysis can be challenging. If facial paralysis causes cannot be identified, a patient's facial appearance and self-confidence can be severely affected. Dr. Babak Azizzadeh of The Facial Paralysis Institute is a Harvard-trained facial plastic and reconstructive surgeon with many years of experience. He understands both common […]
Read more
---
What Are the Symptoms of Moebius Syndrome? Moebius syndrome is generally characterized by paralysis or weakness of multiple facial nerves. The National Organization for Rare Disorders (NORD) indicates the condition most often affects the sixth and seventh facial nerves, but other nerves can also be impacted. In Moebius syndrome instances where the sixth cranial nerve […]
Read more
---
Can You Get Bell's Palsy While Pregnant? Bell's palsy is a medical condition that causes paralysis or weakness on one side of the face. In addition to affecting a woman during pregnancy, Bell's palsy can sometimes impact an unborn baby. Bell's Palsy and Pregnancy: Here's What You Need to Know Pregnant women are susceptible to […]
Read more
---
Facial Nerve Recovery After Parotidectomy A parotidectomy is a surgical procedure used to remove a parotid gland tumor. Typically, a tumor makes an affected parotid gland appear larger than ever before. A parotid gland tumor also generally appears on a single gland as a growth on the jawbone. At the first sign of a parotid […]
Read more
---
Bell's palsy and stroke are medical conditions commonly associated with facial paralysis. However, Bell's palsy and stroke are not identical, and proper diagnosis is key to ensure safe, effective treatment of either condition. To better understand the differences between Bell's palsy and stroke, let's examine both conditions in detail. Bell's Palsy vs. Stroke: What You […]
Read more
---
Permanent facial paralysis is rare, and it occurs due to severe facial nerve branch damage. The facial nerve consists of five primary branches: frontal, zygomatic, buccal, marginal mandibular and platysmal. Long-term facial paralysis is most frequently associated with damage to the frontal nerve branch, but extensive damage to any of the facial nerve branches may lead to permanent facial paralysis.
Read more
---
Permanently Treating Facial Paralysis, Bell's Palsy and Synkinesis with Modified Selective Neurectomy Modified selective neurectomy, also known as selective neurolysis, is a groundbreaking smile reanimation procedure created by globally recognized and Harvard-trained facial paralysis and reconstructive surgeon Dr. Babak Azizzadeh. It is a permanent treatment option that has already helped many patients improve their quality […]
Read more
---
Difference Between Facial Paralysis vs. Facial Synkinesis There are many similarities between facial paralysis and facial synkinesis. However, the disorders are not interchangeable, and it is important for patients to know how to differentiate between the two for appropriate diagnosis and treatment. Facial paralysis refers to the loss of facial movement due to nerve damage. […]
Read more
---
What You Need to Know About Selective Neurolysis Surgery in an Infographic Selective Neurolysis Consultation Dr. Babak Azizzadeh is a world-renowned facial plastic and reconstructive surgeon. He pioneered the selective neurolysis procedure and provides support to partial facial paralysis and synkinesis patients. During a selective neurolysis consultation, Dr. Azizzadeh will discuss all treatment options with […]
Read more
---
Bell's palsy is a form of temporary facial paralysis that often affects one side of the face. However, some patients may experience bilateral Bell's palsy. Bell's palsy disrupts messages between the brain and facial muscles, resulting in facial paralysis or weakness.
Read more
---
Botox has been a top treatment for synkinesis for the past two decades. It consists of a protein derived from botulinum toxin and has been shown to relax unwanted muscle movements in the face.
Read more
---
Facial paralysis prevents an individual from moving one or both sides of the face. There are many types of facial paralysis, and these conditions affect thousands of people around the world.
Read more
---
For individuals who are dealing with facial paralysis associated with Bell's palsy, neuromuscular retraining (NMR) may be a viable treatment option.
Read more
---
The facial nerve controls facial expression and movement and passes directly through the parotid gland, an organ that enables verbal and non-verbal communication.
Read more
---
Facial nerve transfer surgery can help improve facial reanimation for those who suffer from permanent Bell's palsy or complete facial paralysis
Read more
---
During a consultation, Dr. Azizzadeh will perform an in-depth patient analysis. Then, he will offer treatment recommendations to help a patient overcome facial paralysis symptoms once and for all.
Read more
---
Bell's palsy results in immediate facial paralysis that usually affects one side of the face. The paralysis may cause an individual to experience drooping on one side of the face and impact a person's sense of taste.
Read more
---
Request your consultation with Dr. Azizzadeh today
Call us at (310) 657-2203 to schedule an appointment.
Schedule a Consultation