Acoustic Neuroma Treatment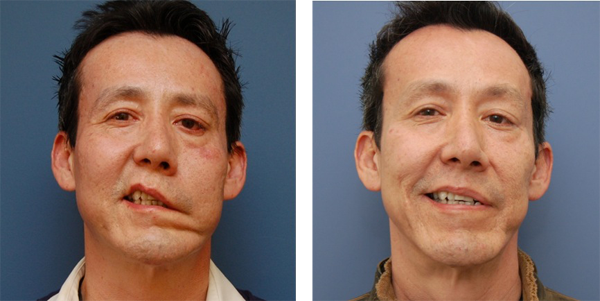 Acoustic neuromas are the most common type of non-cancerous brain tumor. Although they are not cancerous tumors, they commonly cause a multitude of other medical problems. Any patient with an acoustic neuroma should seek medical treatment from an expert right away.
William H. Slattery, III, MD,  and the  team of experts at the House Clinic   have some of the most extensive experience in removing acoustic neuroma tumors. Babak Azizzadeh, MD, FACS, and his team then  treat many of the side effects of acoustic neuroma removal , including incomplete eyelid closure and facial paralysis.
Mark Ruffalo: Acoustic Neuroma Patient
Facial paralysis and incomplete eyelid closure is exactly what actor Mark Ruffalo experienced when he woke up from acoustic neuroma surgery in 2001. After having an unsettling dream that he had a brain tumor, Ruffalo saw his doctor who, unfortunately, confirmed his worst fear—he had an acoustic neuroma. He had surgery to remove the tumor located near his facial nerve and woke unable to hear. He also lost facial movement on one side of his face and was unable to close his eye. As is the case with many patients, Ruffalo's paralysis, hearing loss, and incomplete eyelid closure were temporary, but, unfortunately, that is not true for everyone.
Post-Acoustic Neuroma Surgery
Acoustic neuroma tumors develop near the facial nerve. This proximity to the facial nerve increases the chances that the delicate nerve will be injured during the acoustic neuroma removal procedure. Occasionally, it may even be necessary for the surgeon, like acoustic neuroma expert Dr. Slattery, to remove part of the facial nerve to effectively remove the whole acoustic neuroma.
Dr. Azizzadeh, Dr. Massry, and physical therapist Teresa England create individualized treatment plans to help patients recuperate from their acoustic neuroma surgeries. The combination of Dr. Azizzadeh's facial paralysis expertise, Dr. Massry's oculoplastic surgery skills, and Teresa England's physical therapy strategies has helped countless patients regain facial movement after acoustic neuroma removal.
Acoustic Neuroma Expertise
Dr. Babak Azizzadeh works very closely with the highly regarded House Ear Institute surgeons in managing all facets of acoustic neuroma treatment from diagnosis to surgery to post-surgical care. Dr. Azizzadeh is an innovative leader in the facial paralysis field who strives to put a smile back on the face of every facial paralysis patient he treats.
In order to make sure his patients experience the best possible results, Dr. Azizzadeh works with many of the top professionals in the medical field to monitor, treat, and improve facial nerve function after a patient undergoes acoustic neuroma surgery. He works closely with respected oculoplastic surgeon Guy Massry, MD, and leading physical therapist Teresa England.
Facial Paralysis & Acoustic Neuroma
Many acoustic neuroma patients experience temporary or permanent facial paralysis after the tumor is removed. It is also common for patients to develop synkinesis, a condition in which undesired facial movement occurs. Depending on the individual patient's facial paralysis and synkinesis condition, Dr. Azizzadeh may recommend physical therapy and/or facial nerve surgery. Common nerve transfer procedures performed to treat facial paralysis include:
Temporalis Tendon Transfer
Masseter-Facial Nerve Transfer
Hypoglossal-Facial Nerve Transfer
Gracilis Muscle Transplant
Call the Facial Paralysis Institute for Acoustic Neuroma Treatment!
If you or someone you love is suffering from the side effects of acoustic neuroma removal, contact the team of specialists at the Facial Paralysis Institute today. During your consultation, the experts will be able to determine whether you would benefit from their cutting-edge treatments, and they will create a treatment plan just for you. Call us today at (310) 657-2203 to make an appointment!
To learn more about acoustic neuroma treatment, contact our office in Beverly Hills.
---